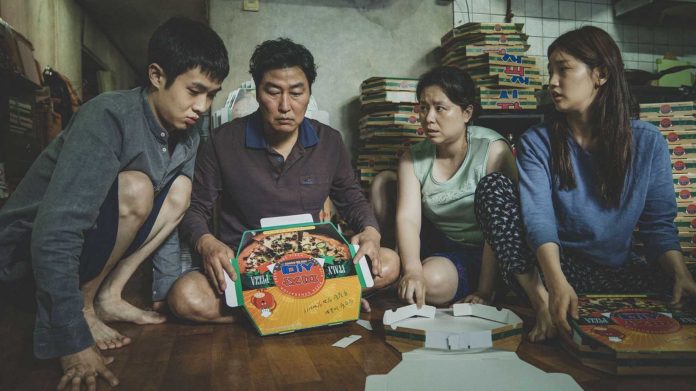 "PARASITE" is the first non-English film to win best picture at the Academy Awards.
According to Wikipedia: "Parasite is a 2019 South Korean black comedy thriller film directed by Bong Joon-ho, who also co-wrote the screenplay with Han Jin-won. It stars Song Kang-ho, Lee Sun-kyun, Cho Yeo-jeong, Choi Woo-shik, and Park So-dam, and follows the members of a poor household who scheme to become employed by a wealthy family by infiltrating the household and posing as unrelated, highly qualified individuals."
"The film premiered at the 2019 Cannes Film Festival on 21 May 2019, where it became the first Korean film to win the Palme d'Or and the first to win with a unanimous vote since 2013's Blue Is the Warmest Colour. It was then released in South Korea by CJ Entertainment on 30 May 2019. It was praised as one of the greatest South Korean films ever made and one of the best films of the 2010s. It has grossed $167.6 million worldwide so far, becoming Bong's highest-grossing release and the third highest-grossing film in South Korea.
"Parasite received numerous accolades, with six nominations at the 92nd Academy Awards, winning for Best Picture, Best International Feature Film, Best Director and Best Original Screenplay. It became the first South Korean film to receive Academy Award recognition, as well as the first film not in the English language to win Best Picture. At the 77th Golden Globe Awards, it won the award for Best Foreign Language Film. It received four nominations at the 73rd British Academy Film Awards, winning Best Film Not in the English Language, Best Original Screenplay. It also became the first non-English film to win the Screen Actors Guild Award for Outstanding Performance by a Cast in a Motion Picture," according to Wikipedia.