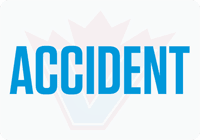 THE driver of a Dodge Ram that hit a pedestrian stayed on the scene and is fully cooperating with police after a fatal crash on Tuesday.
Delta Police were called to the scene of a serious pedestrian collision, arriving shortly after 7:30 p.m. on October 23.
The investigation has revealed that a driver was turning from the Delta side of 120th Street, around the 9000-block, turning northbound out of a parking lot when a pedestrian was struck.
Emergency Health Services was already on scene, and the pedestrian was taken to hospital, but he died of his injuries.
The pedestrian is 44 years old and is from of Surrey. His family has been notified of his death.
"While it is too early to speak to what caused this tragic crash, police want to caution both drivers and pedestrians to take extra care as the days get shorter," said Cris Leykauf, spokesperson for Delta Police. "Pedestrians should wear bright or reflective clothing, or carry a light if possible, and should be aware that drivers may not see them. Drivers should keep an eye out for pedestrians and cyclists, particularly in intersections and when making turns."