Malik was shot several times, says IHIT
IHIT is asking any witnesses or anyone traveling in the 8200 block of 128 Street, Surrey, as well as the area of 122 Street and 82 Avenue between 7 a.m. and 10 a.m. with dash cameras, or who has any information regarding the homicide of Malik to contact the IHIT Information Line at 1-877-551-IHIT (4448) or email at ihitinfo@rcmp-grc.gc.ca. 
VANCOUVER businessman Ripudaman Singh Malik, 75, who had been acquitted in the 1985 Air India bombing case in 2005, was shot dead in Surrey on Thursday morning.
Sources tell The VOICE that Malik may have been targeted because he reportedly wrote a letter to Indian Prime Minister Narendra Modi expressing his "deep heartfelt gratitude" for the unprecedented positive steps taken by his government for the Sikh community, as reported by the Hindustan Times newspaper of India on January 18.
The Integrated Homicide Investigation Team (IHIT) that was called in by Surrey RCMP issued a statement just before 5 p.m. on Thursday, identifying the victim as Malik and asking the public to help further its investigation into the homicide.
It said that at 9:26 a.m., Surrey RCMP responded to a report of a shooting at 8236 128 Street. First responders attended the location and found the male victim had sustained fatal injuries.
IHIT has taken conduct of the investigation and are working closely in partnership with Surrey RCMP, BC Coroner's Service and the RCMP Forensic Identification Section.
A burned vehicle was located nearby in the area of 82 Avenue and 122A Street in Surrey, which is being held by investigators and is believed to be associated with the homicide.
"We are aware of Mr. Malik's background, though at this time we are still working to determine the motive. We can confirm that the shooting appears to be targeted and there is not believed to be any further risk to the public," said IHIT Sgt. Timothy Pierotti.
"Having occurred in a residential area, we are confident that witnesses exist that could help us further this investigation. We urge them to come forward immediately and without delay."
IHIT is asking that any witnesses or anyone traveling in the area of 122 Street and 82 Avenue between 9:15 a.m. and 10 a.m. with dash cameras or anyone who has any information regarding the homicide of Malik to contact the IHIT Information Line at 1-877-551-IHIT (4448) or by email at ihitinfo@rcmp-grc.gc.ca.
Earlier in the day, Surrey RCMP said police were looking for a second vehicle that may have been used as a getaway vehicle.
Malik's business Papillon Eastern Imports Ltd is located at 8236 128A Street. A witness told the media that he heard three shots. He said he pulled Malik from his vehicle as he bled from a single neck wound.
IHIT spokesperson Sgt. David Lee told the media on Friday morning that Malik was "shot several times," but did not elaborate.
He also stressed that investigators were "following the evidence" and "won't speculate as to motive."
Lee said that the suspects arrived in a white Honda CRV at the shooting scene at around 7 a.m. and waited for Malik to arrive. Police obtained surveillance video showing the vehicle that was later found torched.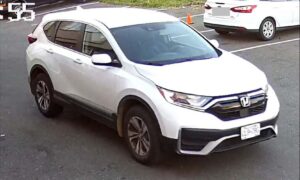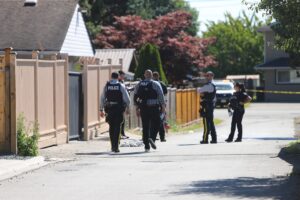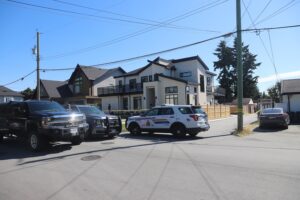 MALIK'S son Jaspreet Singh Malik wrote on his Facebook Page: "My father, Ripudaman Singh Malik (1947-2022) dedicated his life to promoting Guru Nanak Dev Ji's teachings including those of love, honesty and Sarbat Da Bhalla (the betterment of all humanity).
"He came to Canada in 1972, and in 1986 founded the Khalsa Credit Union and Khalsa School, which is now the largest private school in BC.
"The media will always refer to him as someone charged with the Air India bombing. He was wrongly charged and the Court concluded there was no evidence against him. The media and RCMP  never seemed to accept the Court's decision and I pray today's tragedy is not related.
"My father's commitment was to his community and his family, and his goal was to see the immigrant Sikh community thrive through education and financial security. His legacy lives on through Khalsa Credit Union and Khalsa School.
"He is survived by his wife, 5 children, 4 daughters-in-law and 8 grandchildren."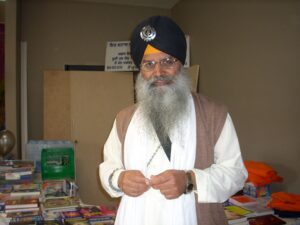 KHALSA Schools of BC said in a post on their Facebook page: "Bhai Ripudaman Singh Malik, our school's driving force since the very beginning in 1986, has left this world and gone back to Vaheguru.
"All of us at Khalsa School are so very proud that we were able to work under Mr. Malik's leadership and guidance without which Khalsa School would not be possible.
"Mr. Malik's legacy will carry forward always in Khalsa Schools of BC towards which they dedicated their heart and soul to standing up as the institution it is today.
"As Mr. Malik would say, these buildings will stand for another hundred years and will keep educating the community's children for generations to come. With everyone's support, Khalsa School will continue to grow and flourish in the years ahead."
ACCORDING to the Hindustan Times report of January 18, Malik wrote to Modi: "I am writing you this to express my deer heartfelt gratitude for the unprecedented positive steps taken by yourself to redress long-reading Sikh demands and grievances including elimination of blacklists that restricted visit to India of thousands of Sikhs living abroad, grant of passports and visas to asylees and their families, reopening of hundreds of 1984-riots closed cases leading to conviction and jail term for some, declaring 1984-riots as 'genocide' by then Home Minister Shri Rajnath Singh on the floor of the House, giving compensation or Rs. 5.00 lakh [Rs. 500,000] per family of the anti-Sikh genocide victims, opening of Sri Kartarpur Saheb Corridor facilitating pilgrims from India to visit the revered place of our first Master Guru Nanak Dev Ji."
The newspaper also reported that Malik expressed happiness on the declaration of December 26 – the martyrdom of Guru Gobind Singh's sons – as 'Veer Baal Diwas'.
"At the same time, Singh showed concerns at an "orchestrated campaign" by some misguided members of the Sikh community against the Modi government and India. This, he said, is being done at the behest of some foreign powers which are interested in destabilising India and challenge its national integrity," the Hindustan Times wrote.
Malik promised to work with the government of India for redressal of pending issues.
The newspaper also reported that in a separate letter to the Sikh community, Malik "urged them to desist from the vicious and motivated campaign."
"Violence in Punjab only ends up hurting the interests of the Sikh community in Punjab and throughout India and around the world. I do my daily Ardaas for world peace as I do not like seeing my community or any community suffer due to violence," he said in the letter.