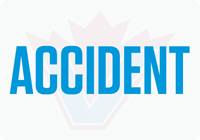 ON Saturday at 10:37 p.m., Abbotsford Police responded to a single vehicle collision on Marshall Road, just west McCallum Road.
Police found that a Jeep had collided with trees and a retaining wall and sheared a utility pole. Police quickly attended to the lone male driver of the Jeep and he was transported to hospital with serious life-threatening injuries.
Abbotsford Police  patrol officers, with the assistance of the Integrated Collision Analysis Reconstruction Service (ICARS), remained on scene throughout the night and are in the early stages of this investigation. Marshall Road remains closed between McCallum Road and Horizon Street while repairs are made to the utility pole. Abbotsford Police will provide an update on their social media once the road reopens.
Investigators are seeking witnesses and surveillance or dashcam footage from those who may have seen this Jeep driving just before the collision. If you can assist, you are requested to call the Abbotsford Police Department at 604-859-5225