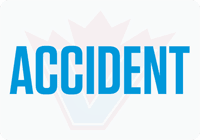 A 23-year old Richmond man died following a single-vehicle motorcycle crash in East Vancouver on Thursday afternoon.
Just after 2 p.m. on August 22, the motorcyclist was travelling south on Boundary Road near Rumble when he lost control and was thrown from the bike. Bystanders performed CPR before paramedics arrived.
Officers from the Vancouver Police Department's Collision Investigation Unit are working to determine the cause of the crash. Speed appears to be a factor.
This is Vancouver's 10th motor vehicle related fatality in 2019.