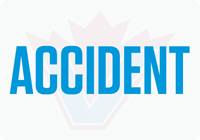 ON Saturday at approximately 10:53 p.m., Surrey RCMP responded to a single vehicle rollover collision on 192 Street, north of 82A Avenue. The vehicle involved was traveling northbound on 192 Street, and went off the road to the right and struck a ditch, which caused the vehicle to roll over.
Surrey RCMP members arrived on scene, and the driver was subsequently transported to a local hospital for medical assessment. For investigative purposes, police closed 192 Street to traffic.
It is unknown whether speed or alcohol were a factor in this incident.
Anyone with more information, including dash cam footage around the area, is asked to contact the Surrey RCMP at 604-599-0502.