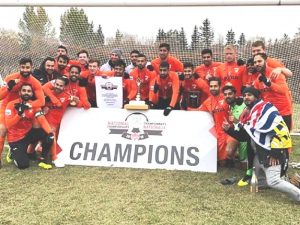 SURREY BC Tigers Hurricanes defeated Ontario's Caledon SC 7:3 in the Gold Medal Final to win the 2018 Canada Soccer Toyota National Championships Challenge Trophy in Saskatoon, Saskatchewan.
Saskatoon Revolution won the Bronze Medal match 7-6 on kicks after a 1:1 draw with Holy Cross FC.
BC's Nick Soolsma was named Most Valuable Player of the Challenge Trophy Finals as well as the Golden Boot winner. He scored nine goals in the tournament, the most by a player in 18 years, including four in the championship final.
Surrey BC Tigers Hurricanes also ended British Columbia's 14-year drought in the men's competition. Before 2004, British Columbia's longest drought had been just six years in between national titles.
1. Surrey BC Tigers Hurricanes (BC)
2. Caledon SC (ON)
3. Saskatoon Revolution (SK)
4. Holy Cross FC (NL)
5. Edmonton Scottish (AB)
6. Royal-Sélect Beauport (QC)
7. Western Halifax FC (ON)
8. FC Winnipeg Lions (MB)
9. Fredericton Picaroons Reds (NB)
10. Yellowknife YK Galaxy FC (NT)
Gold Medal Match – Surrey BC Tigers Hurricanes (BC) 7:3 (ON) Caledon SC
Nick Soolsma scored four, Ryan Dhillon scored two and Pavi Dhillon scored a goal for British Columbia. Stavros Badunas, Diego Gonzalez, and Jordan Piccinin scored for Ontario.