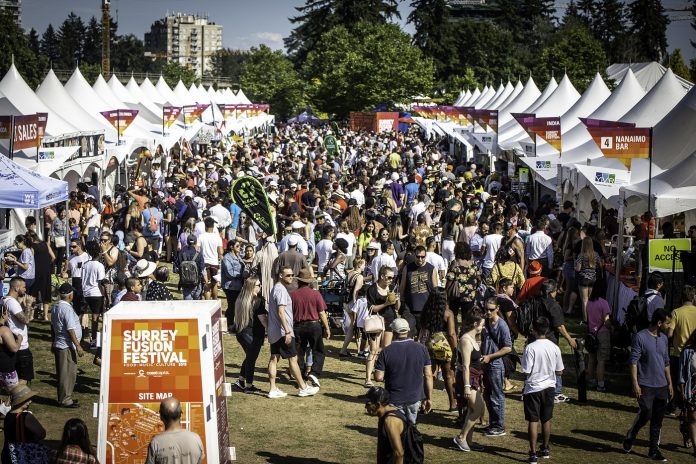 SURREY Fusion Festival, presented by Coast Capital Savings, took place at Holland Park this past weekend for its 12th annual year.
The two-day festival saw participation from over 50 cultural pavilions and seven stages of live entertainment including headliners K'NAAN,
Mankirt Aulakh, Busty and the Bass, Random Recipe and Alex Cuba.
"Surrey Fusion Festival highlights the best food, music and culture our diverse and inclusive city has to offer," said Surrey Mayor Doug McCallum. "Fusion has become a summer tradition where the community comes together to celebrate the cultures of the world. On behalf of Council,
I would like to extend my sincere thanks to our presenting sponsor, Coast Capital Savings, as well as the numerous cultural and community groups for their continued support in helping make this great event possible."
International Somali-Canadian recording artist K'NAAN hit the stage on Saturday night, captivating the crowd with an all-star performance.
Leading up to K'NAAN, Montreal band Random Recipe brought a blend of hip hop, pop, funk, trip hop and indie rock to the stage. On Sunday night, Punjabi singer Mankirt Aulakh started the evening off with high-energy performance followed by Cuban-Indie artist Alex Cuba, who opened the stage for Canadian funk group Busty and the Bass to end the night. Additional performances throughout the weekend included: Aché Brasil, Grupo America, En Karma and OHR Afrika Collective.
Additionally, attendees enjoyed desserts from around the world as pavilions celebrated the 2019 theme Something Sweet. New to the Festival was the Celebrate Africa zone which showcased traditional art and textiles, cuisine and cultural displays. Attendees could also enjoy the Indigenous Village which featured a Métis pavilion, artisan goods for sale, bannock, powwow performances and traditional West Coast Indigenous music and dance. Additional highlights included the Sports Zone, Storyville, Kids Zone, zip line and inflatables.
Partial funding for Fusion Festival was provided by the Department of Canadian Heritage to bring together cultural communities from across the Lower Mainland to celebrate each other's history, heritage, and traditions. The Community Support, Multiculturalism, and Anti-Racism Initiatives Program works to build on Canada's strength as a diverse and inclusive society.
For more information visit www.surreyfusionfestival.ca