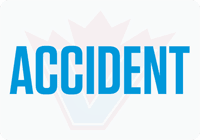 A serious early morning collision in Vancouver on Wednesday sent one man to hospital with life-threatening injuries and shut down parts of Oak Street for hours.
Just before 1:30 a.m., two vehicles, a white Mercedes SUV and a white Honda Civic, collided in the intersection of West 49th Avenue and Oak Street. The available evidence suggests that at the time of the collision, the Mercedes was travelling North on Oak Street and the Honda was West on West 49th Avenue.
Officers from the VPD's Collision Investigation Unit believe that speed was a factor.
The lone occupant from the Mercedes, a Surrey man remains in hospital with life-threatening injuries. The two occupants from the Honda, both 20-year-old Vancouver women, were treated for minor injuries and released at the scene.
Anyone who may have witnessed the collision, and has not yet spoken with police, is asked to call the VPD's collision investigation unit at 604-717-3012.