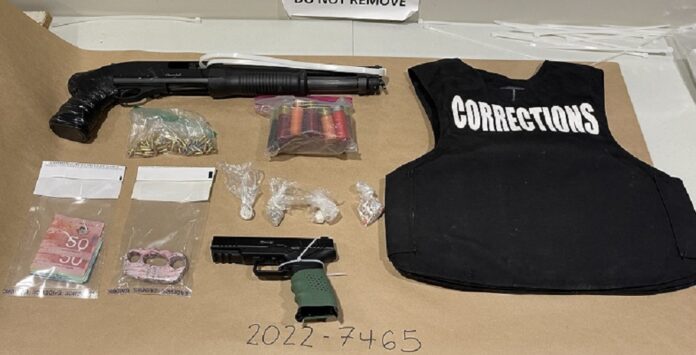 FRONTLINE Surrey RCMP officers have taken two loaded firearms off the streets in a two-day period as a result of enforcement targeting violence associated to the drug trade.
In addition to their regular call response, officers from Surrey RCMP's frontline have stepped up their pro-active enforcement targeting street level violence. These efforts have been successful with investigations leading to seizures of toxic illicit drugs, cash and loaded firearms, said police.
The first seizure was the result of an investigation that began on November 26, 2021. Frontline officers, assisted by the Surrey Community Response Unit, began an investigation of suspected drug trafficking at a residence in the 10600-block of 138 Street. After several weeks of investigation, a search warrant was obtained and on January 23. A search of the residence was conducted with the support of the Lower Mainland Emergency Response Team and the Integrated Police Dog Services.
Inside the residence, police said they located and seized several items, including a loaded shotgun, ammunition, a replica handgun, and body armour. A small quantity of cash, suspected illicit drugs and other items consistent with drug trafficking were also located. One man was arrested at the residence and was held in custody on another matter.
On January 24, at 8:40 p.m., frontline officers arrested a 31-year-old male for suspected drug trafficking in the 10600-block of King George Boulevard. A search led to the seizure of a loaded handgun, a small amount of pre-packaged drugs, cash and a cellphone. The male was released pending investigation.
Both investigations are ongoing and report to BC Prosecution Services is underway.
"As a police officer there is no better feeling than knowing you have taken a potentially deadly weapon out of the hands of criminals," said Surrey RCMP Media Relations Officer, Constable Sarbjit K. Sangha. "We will continue to target criminals who perpetuate violence, and take advantage of the addictions crisis."
If you have information about suspected drug trafficking in your neighborhood, you are requested to report it to the Surrey RCMP at 604-599-0502.