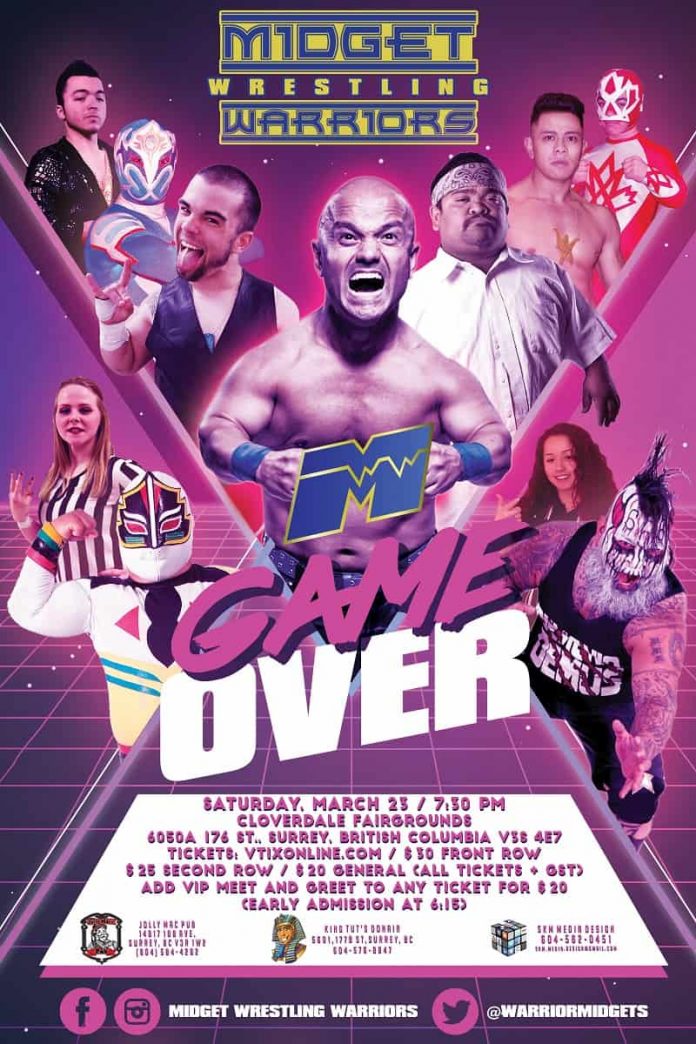 Everyone in British Columbia needs to brace themselves, because a return invasion of the "little people" is imminent as the Midget Wrestling Warriors, "Game Over" tour is slated to hit Surrey, B.C. at the Alice McKay building in the Cloverdale Fairgrounds on Saturday March 23rd. The Midget Wrestling Warrior's, a New York based company, has been running since 2014 and has already left a huge mark in the wrestling world.
Since the company's beginning, The Midget Wrestling Warriors have toured Canada with multiple tours from coast to coast, which includes stops in British Columbia, Alberta, Saskatchewan, Manitoba, Ontario, and Nova Scotia as well as tours throughout the United States. The Midget Wrestling Warriors feature the top wrestlers from across North America and they are once again looking forward to a rousing reception when they invade All Star Wrestling.
New York's own Dan DiLucchio, who wrestles by the name of Short Sleeve Sampson, is just one of the wrestlers on a stacked roster of reputed wrestlers from the U.S., Canada, and Mexico
"We have to prove our product," said Sampson. "There's a generation of wrestling fans out there that haven't seen midget wrestling in person. I'm really excited to see that the Midget Wrestling Warriors has the roster depth and talent to really showcase what our sport is all about and the unique element that we bring to the table." Others slated to appear on this upcoming tour include Golden Boy Brandon Bowman (Canada), Rob the Giant (Rhode Island), Demus 666 (Mexico), Mascarita Sagrata (Mexico), Mascarita Divita (Mexico),
El Loco (Texas), Tiago Rey (Mexico), and they are joined by Bambi Hall (Vancouver), J'kaila (Vancouver), and Scotty Sweatervest (Washington). Among these, Sampson and Mascarita Sagrata have appeared throughout North America the most, with more than 20 years of wrestling to each of their credits. Both men have been fortunate enough to work with such promotions as the WWE, TNA, AAA, CMLL, and Hulk Hogan's Micro-Championship Wrestling adding great visibility to their careers.
Sampson has had an interesting career, filled with unexpected surprises. "I've always been athletic, I've always been involved in sports. But I must be realistic, the NBA, NFL, MLB, or NHL are not calling me or any of us in the Midget Wrestling Warriors to work for them because we don't meet their height requirement" says Sampson. "I've found a career as a professional athlete, but there are those out there that will say that because we use the word 'midget' that we are being objectified and exploited. No! This is how I make my living, this is how I pay my bills, this is how I support my family, this is how I live out my dreams! – my goal is to not only be recognized as a "midget" wrestler, but as a great wrestler that happens to be "short". So, let's be straight with each other and drop all these politically correct labels – we're called midgets!"
Tickets are on sale now for The Midget Wrestling Warriors' show that is scheduled for Saturday March 23rd at the Alice McKay building in the Cloverdale Fairgrounds:
$30.00 – Front Row Seating $25.00 – Second Row Seating $20.00 – General Admission Seating $20.00 – VIP Meet and Greet (can be added to ANY ticket and provides early admission at 6:15pm, a Souvenir Program, and the opportunity to meet all the Midget Wrestling Warrior superstars before the show) (All prices plus the GST and applicable service charges.)
You can purchase your tickets online at www.vtixonline.com/all-star-wrestling or by calling 604-710-0872