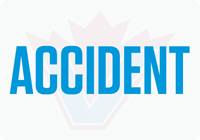 CHILLIWACK RCMP are investigating a single motor vehicle collision that sent three pedestrians to the hospital.
On Tuesday, May 9 at approximately 7:50 a.m., Chilliwack RCMP frontline officers responded to a report of a single vehicle incident involving three pedestrians in the area of Keith Wilson Road and Lindys Drive.
A vehicle was travelling west on Keith Wilson when it allegedly struck three youth who were crossing the street at a marked crosswalk. The subsequent collision resulted in injuries.
Two youth have since been released from the hospital with minor injuries. The third youth is completing further medical examinations but expected to be released later today.
The driver remained on scene and is cooperating with the investigation. Impairment is not considered to be a contributing factor in this collision. The incident is still under investigation.
Keith Wilson Road between Lickman Road and Carter Road was closed to traffic as police investigators collected evidence from the scene with the assistance of the Integrated Collision Analysis and Reconstruction Services (ICARS).
Anyone with information, including dash cam footage around the area of Keith Wilson between Tyson Road and Lindys Drive between the 7:30 a.m. and 7:50 a.m. is asked to contact the Chilliwack RCMP at 604 792-4611 and quote file 23-17705.