Customers South of the Fraser River leading strong ridership recovery
NEW data from TransLink shows that the region's strong ridership recovery has been led by customers South of the Fraser River, as well as in Maple Ridge and Pitt Meadows.
The 2022 Transit Service Performance Review (TSPR) details TransLink ridership trends across Metro Vancouver in 2022, with a deep dive into patterns during the fall. In 2022, TransLink ridership grew 48 per cent over 2021 volumes. Recovery continued to be strongest in Metro Vancouver's eastern suburbs.
"Our surging ridership growth is a testament to how integral public transit is to residents of this region," says TransLink CEO Kevin Quinn. "We will continue to invest in our system so residents have a world class, reliable and affordable public transit network they can depend on every single day."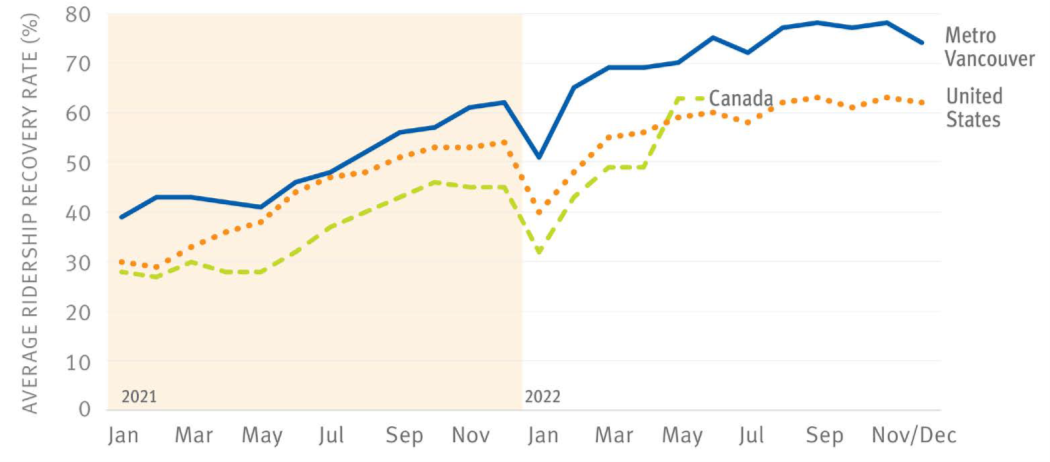 Systemwide trends
According to Compass Data, 2.8 million different people used transit in Metro Vancouver at least once during Fall 2022.
With 194 million trips taken on transit last year, TransLink had the fifth highest ridership of any Canadian or American metropolitan area despite having the 24th largest population.
TransLink's overall ridership reached 80 per cent of pre-pandemic levels near the end of 2022. This made TransLink the first major transit agency in Canada and the US to reach that milestone. TransLink's ridership recovery continues to be leading all major transit agencies in Canada and the US with available recovery data.
Ridership has continued to grow in 2023, reaching 87 per cent of 2019 levels in March.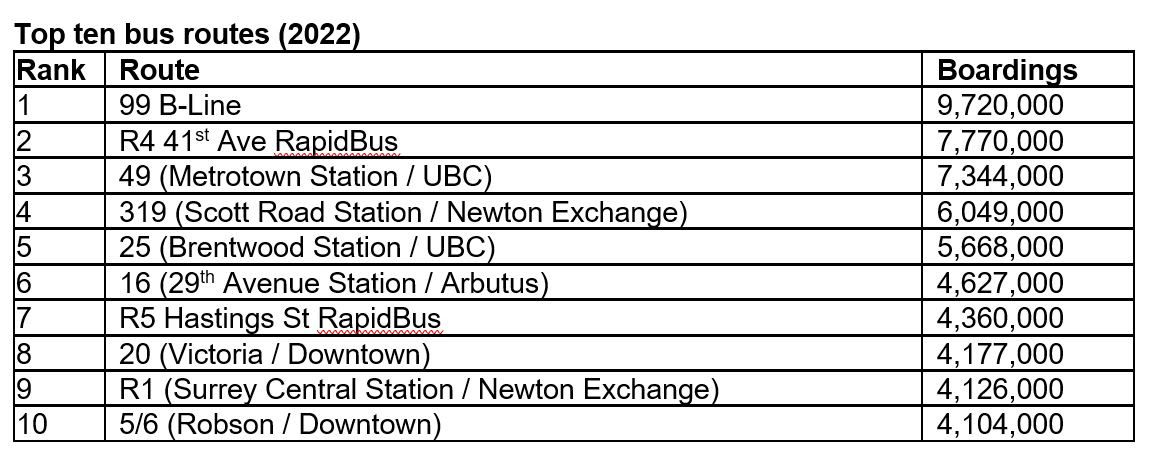 Subregional trends
TransLink's 48 per cent annual ridership growth was supported by a surge in ridership in the Southeast Subregion, as well as in Maple Ridge/Pitt
Meadows. Maple Ridge and Pitt Meadows recovered to 98 per cent of 2019 volumes in late 2022. This growth was mostly driven by the addition of the R3 Lougheed Highway RapidBus service in 2020.
TransLink's Southeast Subregion – consisting of Delta, Surrey, White Rock, the Township of Langley, and the City of Langley – grew to 93 per cent. Since then, the Southeast subregion has surpassed pre-pandemic volumes and grew to 110 per cent of 2019 levels in March.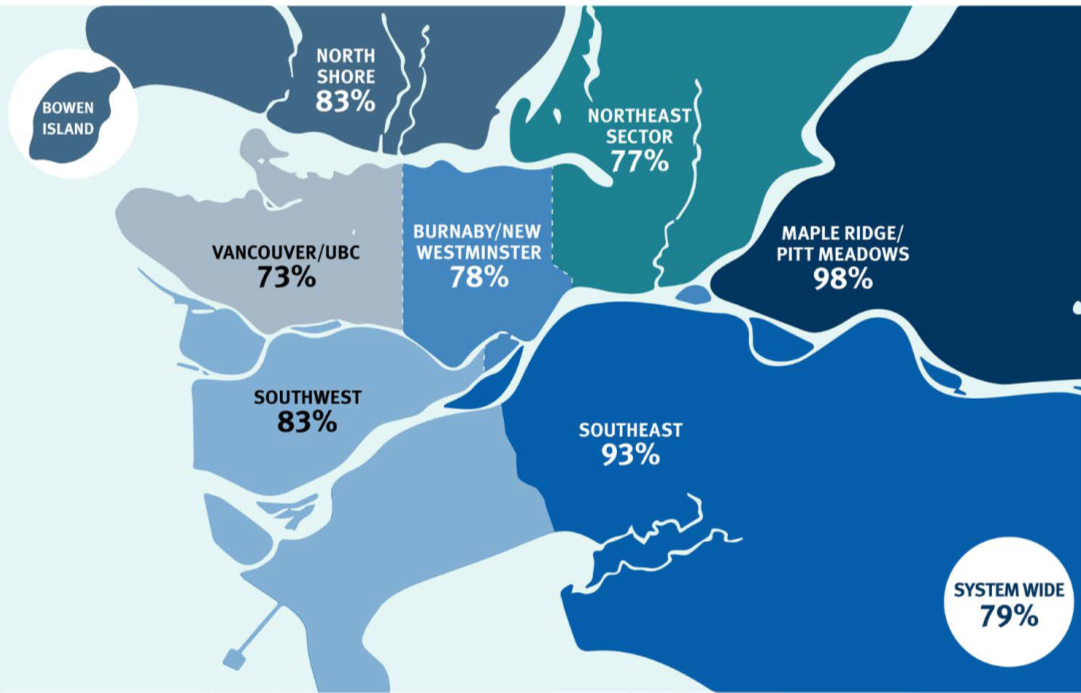 HandyDART trends
TransLink is also releasing a separate deep dive into 2022 HandyDART service through the annual HandyDART Service Performance Review. Some key findings include:
965,000 HandyDART trips were delivered in 2022, up 39 per cent from 2021.
HandyDART's strong recovery was led by customers continuing to use the service to access critical health services like dialysis (17 per cent of trips) or other medical. appointments (also 17 per cent of trips).
HandyDART on-time performance continued to be strong, with 92% of all trips arriving on-time.
HandyDART brought in 6,500 new customers in 2022, 22 per cent more new customers than 2021.