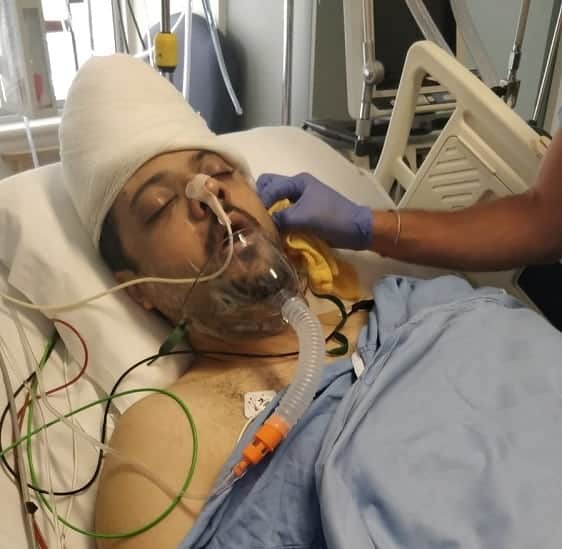 PEEL Regional Police announced on Wednesday that they have arrested and charged two brothers for aggravated assault, which is being investigated as a hate-motivated crime, in the City of Mississauga.
On Sunday (July 15), at 9:11 p.m., police responded to a fight at the Mississauga Valley Community Centre. The fight began as a result of a driving incident that occurred in the parking lot. During the assault racially based comments were uttered at the victim indicating the assault may have been a hate-motivated incident, police said.
Two brothers, 19-year-old Janis Corhamzic and 27-year-old Adem Corhamzic, both of Brampton, were arrested at the scene by responding officers.
Both men were charged with aggravated assault and two counts of assault and appeared at the Ontario Court of Justice in Brampton for a bail hearing on Monday.
The victim, a 38-year-old man from Mississauga, was transported to a trauma centre where he is currently in serious but stable condition. The victim's wife and a family friend, who tried to intervene, were also assaulted and suffered minor injuries, police said.
The victim has been identified by media as Muhammed Abu Marzouk. His younger brother told the Toronto Star: "They had to cut his skull open." He is recovering at St. Michael's Hospital in Toronto. His wife told CBC that the attackers shouted: "F–king Arab people! Terrorists."
A LaunchGood crowdfunding campaign is collecting donations for Marzouk and his family. By Wednesday afternoon, people had already donated more than $66,000 of its $75,000 goal.
The DawaNet and Masjid Dar Al-Tawheed teams said that Marzouk had multiple surgeries, including a brain surgery. They met with his family and recived their permission to launch this campaign.
They said: Muhammed was the sole breadwinner for the family, and his recovery may take several months. Funds raised from this campaign will be utilized by the family to pay for day-to-day living expenses."
Peel Regional Police Chief Jennifer Evans said: "The Region of Peel is one of the most diverse and inclusive communities in Canada, and hateful behaviour will not be tolerated. I want to assure the public that all our officers are trained to recognize and investigate hate-motivated crime and we take these incidents very seriously. We also ask that our community members stay vigilant and report hate-motivated crime or hate-motivated incidents to police."
Each police division has a Hate-Motivated Crime Coordinator who monitors and assists with hate-motivated crime investigations.
For more information on hate-motivated crime and bias-motivated crime visit the Peel Regional Police Website.
Anyone with information regarding this incident is asked to contact investigators with the 12 Division Criminal Investigation Bureau at (905)453-2121, ext. 1233. Information may also be left anonymously by calling Peel Crime Stoppers at 1-800-222-TIPS (8477), or by visiting www.peelcrimestoppers.ca.
EDITOR'S NOTE: We have received several responses from readers claiming that the names of the accused show that they are Serbian, while others claim they are Bosnian Muslims. We are not going to be publishing those reactions until the police or some other authority verify that.
ALSO READ:
http://7zi.e17.mywebsitetransfer.com/national-muslim-organization-denounces-hate-motivated-assault-of-mississauga-ontario-man/