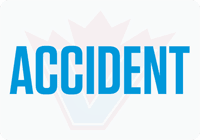 TWO people are in hospital with critical injuries following a serious collision in the eastbound lanes of Highway 1 at the west end of the Port Mann bridge in Coquitlam at approximately 7:10 a.m. on Wednesday.
RCMP and Emergency Services responded to the collision and BC Highway Patrol said that it has assumed conduct of this investigation which is in its early stages and information is subject to change. At this time, it is believed that an eastbound red Mazda 3 ran into the rear of a tandem dump truck at highway speeds. The two occupants of the Mazda, a man and woman, are in hospital with critical injuries.
Highway 1 eastbound remains closed while police continue to investigate. There is a detour available via the United Boulevard/Lougheed exits and police ask motorists to obey the direction of traffic control personnel and signage. Motorists can monitor DriveBC.ca for updates regarding the highway closure.
The cause of the collision remains under investigation, however hydroplaning is being considered as a possible contributing factor. Police ask that drivers ensure their vehicles are equipped with proper tires with sufficient tread and to slow down when it is raining heavily to prevent hydroplaning.
Anyone with information regarding this collision, including dashboard camera video, is asked to call BC Highway Patrol in Burnaby at 604-526-9744.