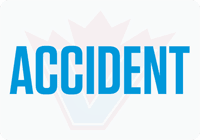 VANCOUVER Police are asking for additional witnesses to come forward and for dash-cam footage in Saturday's fatal crash in South Vancouver.
At 11 p.m. on February 16, a newer-model white 4-door Hyundai Elantra with three occupants was travelling southbound on Cambie Street when it collided with a dark-coloured Acura SUV at West 57th Avenue. The white Elantra lost control and crashed into a utility pole, killing the 26-year-old driver from Vancouver.
The two passengers from Surrey, a 25-year-old man and a 17-year-old girl, were rushed to hospital with non-life-threatening-injuries. The occupants in the second vehicle were not physically injured.
"Our investigators have spoken with witnesses and believe an orange-coloured VW Beetle may have been travelling with the Elantra around the time of the crash," said Constable Jason Doucette. "We're asking the occupants of that vehicle to contact us."
Officers from the VPD's Collision Investigation Unit are asking anyone with dash-cam footage driving along Cambie Street between West King Edward and SW Marine Drive on Saturday between 10:45 p.m. and 11:15 p.m., to contact them at 604-717-3012.
This is Vancouver's fifth fatal collision of 2019.