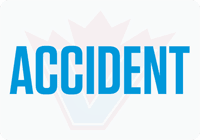 VANCOUVER Police are investigating a serious collision that sent a pedestrian to hospital with grave injuries last month, and ask anyone who saw what happened to call police.
The victim, a 63-year-old woman, was walking near Rupert Street and East 14th Avenue around 2 p.m. on December 22 when she was struck by white Cadillac. The pedestrian suffered a serious head injury and was rushed to hospital, where she remains.
"This collision probably didn't look very serious when it happened, so we believe there are witnesses who didn't stick around to talk to police," said Sgt. Steve Addison on Wednesday. "Sadly, the incident has had tragic and life-altering consequences."
Speed and alcohol are not contributing factors, and the driver remained on scene to talk to police. Investigators believe the driver's vision may have been affected by the late afternoon sun.
VPD's Collision Investigation Unit asks witnesses, or anyone with dash-cam video, to call 604-717-3012