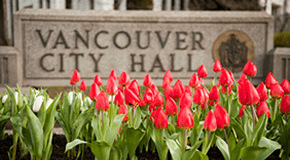 Enforcement will ensure equitable access to parking for residents and businesses
THE City of Vancouver has resumed parking enforcement across the city.
The City said it had heard concerns from residents and business owners about vehicles occupying parking spots for extended periods. Initially, the City relaxed parking enforcement as a response to diminished traffic volume and as a way to support essential workers during the health crisis. But with complaints from residents and businesses growing, the City resumed parking enforcement to normal operation levels.
Initial parking-enforcement efforts will focus on priority and problem areas such as metered-parking areas, time-limited areas and residential-permit parking zones. City staff will monitor the situation and resume enforcement of other regulations, such as rush-hour zones, when needed.
In addition to supporting residents and business owners who need to maintain parking near their homes or businesses, restarting parking enforcement will allow healthcare and homecare workers to find parking spots more easily. The City will continue to offer free parking for these essential workers through their employers.
Staff will post the updated parking information on the City's website and social channels, and place large signs at key locations across the city.
On March 30, the City temporarily relaxed parking enforcement and asked people to pitch in by avoiding street parking if they had off-street options. The City said that unfortunately, the suspension of parking enforcement had led many people to take advantage of the availability of parking for extended periods, thereby making it unavailable for others.
The City has been ramping up parking enforcement since April 9, starting with the West End, Kitsilano and Point Grey.