By Autoreviewman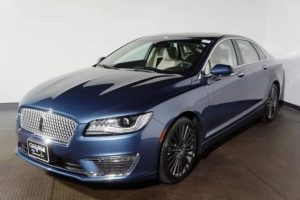 For 2018, the Lincoln MKZ premium luxury sedan Lincoln MKZ remains a handsome, imposing car both inside and out. The interior is also a standout with a better grade of plastic panels than before and  the use of brushed aluminum trim with a unique feel and texture. The MKZ is offered in Select or an even more upscale Reserve trim level. AWD is now standard with the 2.0T engined version, while the Hybrid engine option we tested remains Front Wheel Drive.  The 2.0T is rated at 245 horsepower and 275 lb.-ft. of torque   while the combined system horsepower of the Hybrid remains at 188 hp comprising of a 2.0-litre Atkinson-cycle four-cylinder/electric motor. Options on our beautifully finished Blue Diamond metallic Reserve Hybrid engined tester (Base priced from ($48,450) included a rather wonderful, luxurious cappuccino colored perforated leather sate finished off a very exquisite looking interior.
Inside, the MKZ still has its unique push-button gear selectors on the centre stack, but conventional knobs and buttons have replaced some of the touch-sensitive switches for HVAC. The eight-inch touch-screen interfaces with the latest SYNC3 infotainment system. This year's upgrade featured an increase in the quality of trim materials – for example on the door panels and the increased use of very colorful customizable ambient lighting.
In terms of Technology: Lincoln's excellent SYNC3 infotainment system is standard, and more comprehensive than ever. There are also features and animations that add to the usability and functionality. Apple CarPlay and Android Auto are now supported and proved very user friendly when hooked up. The MKZ Hybrid has a modern, cool look to the dash and a slightly different gauge cluster to the non-hybrid model and features clever displays that show the flow of power from the battery, gas engine and electric motor.
The MKZ is a highly impressive luxury cruiser on the road. There is the typical hybrids eerie smooth take off and near silent whine until the gas motor kick in unobtrusively. As with all Lincolns, the cabin is quiet and well insulated The 2018 Lincoln MKZ Hybrid is a superbly impressive premium luxury car, and the Reserve models features and refinements ratchets up the car to the top in it segment. Inspired looks, superb detailing and a competitive pricing make this luxury sedan one to put on the list.
2018 Lincoln MKZ Reserve Hybrid priced from $46,000
Price as tested $61,825 with options destination and delivery