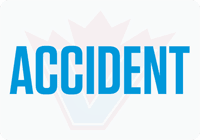 RIDGE Meadows RCMP on Tuesday said that a single vehicle accident resulted in the death of a 16-year-old Maple Ridge girl.
On July 31, at around 1:15 a.m., Ridge Meadows RCMP were called to assist Emergency Health Services with a single vehicle accident. A dark colored Volkswagen Hatchback that was travelling north in the 13000-block area of 248th Street went down an embankment.
The male driver was extracted from the crash site and sent to hospital in serious condition. A male passenger was extracted and sent to hospital in critical condition. Both men are Maple Ridge residents and 18 years of age. However, a 16-year-old female passenger died at the scene.
"This investigation is still in the early stages and police traffic investigators are putting together what happened," said Inspector Aaron Paradis. "Tragically our community has lost a young girl and our sincerest condolences go out to her family and friends."