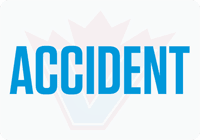 A two-vehicle collision that occurred in Vancouver last week has resulted in the death of a 24-year-old man from Vancouver. Vancouver Police report that this is the City's fourth motor vehicle fatality of 2020.
The collision occurred on Thursday, August 20 at around 3:30 p.m. at West King Edward Avenue and Columbia Street. A motorcycle, travelling west on King Edward Avenue, collided with a minivan travelling north on Columbia Street.
The motorcyclist was transported to hospital with life-threatening injuries. He died in hospital on Saturday, August 22. The lone occupant of the minivan was not injured.
The VPD's Collision Investigation Unit is investigating. Speed appears to have been a factor.
Anyone who witnessed this incident, or has video, is asked to call investigators at 604-717-3012.