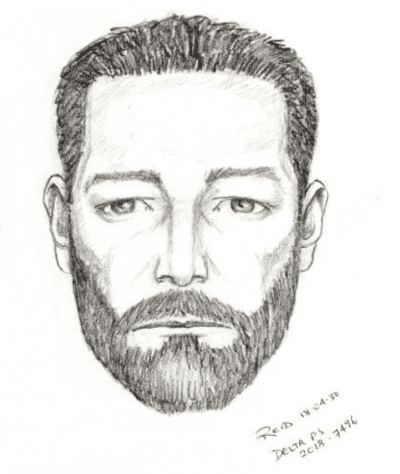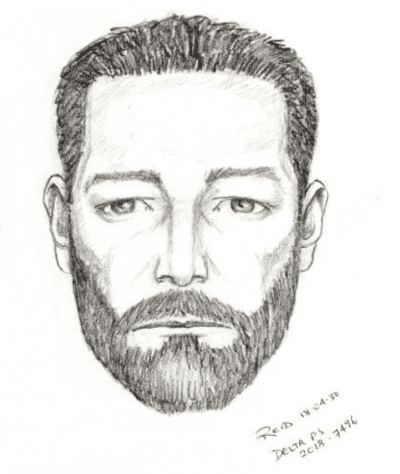 AT a community meeting on Wednesday (May 9) Delta police issued a composite of the suspect from a sex assault that occurred between 12:30 and 1 a.m. on April 12 near Sunbury Hall in North Delta.
At that time the victim left a friend who drove off in a vehicle, and the victim then followed the path through the park. The victim was approached from behind, forced to the ground and sexually assaulted.
The suspect is described as a white male, approximately 35 years old, 5'10" tall, with short brown hair, a full beard, and a thin looking face. He has a medium build and was wearing a black hoody and blue jeans.
The Delta Police Sexual Offence Section has been actively investigating this matter and has completed witness and victim interviews, forensic examinations and an area and video canvass. Additionally, after the incident was reported, police began an enhanced presence in the immediate area of the park.
At the community meeting area residents were thanked for their vigilance in reporting suspicious activity, persons and vehicles to police, and urged to continue to do the same. Residents were also updated about safety improvements underway in Sunbury Park.
"While a stranger sex assault is a very unusual crime in our community, police understand that news of this incident is very upsetting for Delta residents," says Cris Leykauf, public affairs coordinator for Delta Police. "That's why we wanted to give the community an opportunity to hear this update directly from police, and also ask questions or express any concerns they may have."
Delta Police continue to share information with other agencies around the Lower Mainland as the investigation progresses. Anyone who may be able to identify the suspect pictured in the composite, or who may have seen unusual or suspicious activity in the area of Sunbury Park on April 11 or April 12 is asked to contact Delta Police at 604-946-4411, and refer to tip file number is 2018-7710.
For those in the community who may have questions about the crime rate, she notes the Crime Severity Index in Delta is 53.6, compared to 94.3 in Metro Vancouver. (Statistics from July 2017, Canadian Centre for Justice Statistics. Crime Severity Index is a measure of police reported crime that reflects the relative seriousness of individual offences and tracks changes in crime severity.)