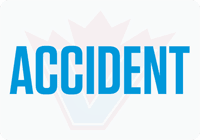 COQUITLAM RCMP are investigating after a woman was struck by a pickup truck as she was walking across Nelson Street at Ridgeway Avenue in Coquitlam. Anybody who was saw the collision and has not yet spoken to police is being asked to come forward.
The collision happened just before 3:45 p.m. on February 18. The initial investigation shows that the pickup truck was making a left turn when the 71-year-old pedestrian was knocked down. The pedestrian, a Coquitlam woman, has serious injuries but is expected to recover.
"We often don't think twice about left turns because they are so routine, but left turns are one of the most high-risk manoeuvers on the road," said Cpl. Michael McLaughlin on Wednesday. "If safety is the goal, all road users need to be extra aware and take extra care when someone is turning left."
Due to the serious nature of the pedestrian's injuries, the Coquitlam RCMP Criminal Collision Investigation Team (CCIT) is leading the investigation. At this early stage there is no evidence that suggests impairment or speed are factors in this collision.
The driver of the pickup truck is an 84-year-old Coquitlam man who is not known to police. He is cooperating fully with the investigation.
If you saw the immediate moments leading up to the collision, or the collision itself, call the Coquitlam RCMP non-emergency number at 604-945-1550 and ask for the CCIT (file 2020-4620). Dash-cam video is also especially useful.