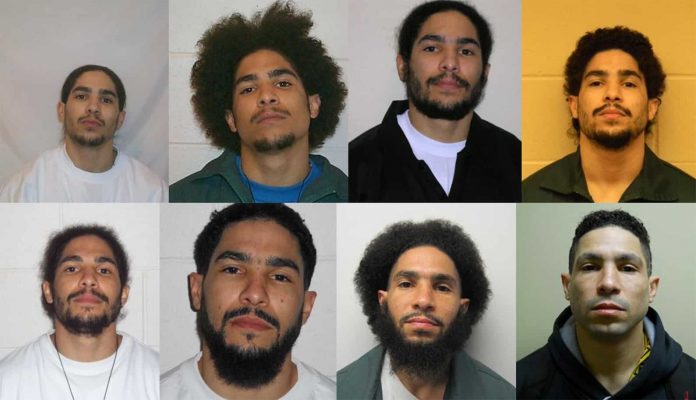 SURREY RCMP are releasing additional photos of Daon Gordon Glasgow, the suspect in Wednesday's shooting of a Metro Vancouver Transit Police officer at the Scott Road SkyTrain Station (see previous news release). These photos, spanning the past 20 years, illustrate how Glasgow has altered his appearance in the past.

Glasgow is described as a dark skinned male, 35 years old, 5'5" tall, 170 lbs, with black hair and brown eyes. At the time of the incident he was observed to have black stubble and a moustache. Glasgow was originally seen wearing a blue hoodie and white Nike brand running shoes right after the occurrence.  Investigators now believe that Glasgow was wearing a white hoodie with a black design shortly after being seen in the blue hoodie.
Glasgow is believed to be armed and anyone who sees him should not approach him but should call 911. Glasgow has a history of violence and is known to police.
Investigators are also asking for assistance from any person who may have dash-cam footage around the Scott Road SkyTrain station on January 30 between 4 and 5 p.m. 
The police will be concluding their searches of the Bridgeview area later today, and the overt visibility of officers will be decreased. However, the RCMP Command Post will remain in the Scott Road SkyTrain station parking lot to allow individuals with information about the occurrence the opportunity to speak directly with investigators.   
Investigators believe Glasgow may try to leave the province in an attempt to evade police. Surrey RCMP has notified other jurisdictions and asked them to be on the lookout for Glasgow. While unrelated to this investigation, Glasgow is also currently wanted on a Canada-wide warrant for being unlawfully at large with respect to violating his statutory release.
While police strongly encourage anyone with information to call the tip line at 604-502-6284 (or 911 if they see this suspect), those with information who wish to remain anonymous, can contact CrimeStoppers at 1-800-222-8477 or www.solvecrime.ca.