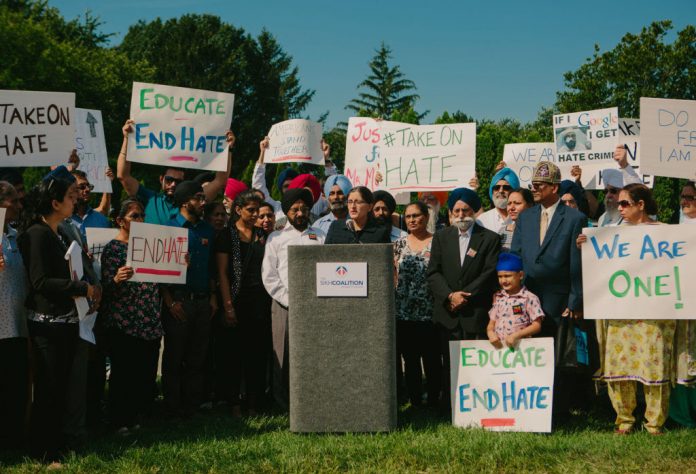 Washington, D.C.: On Tuesday, the Federal Bureau of Investigation (FBI) released its annual hate crimes report, which includes data from 2018 submitted voluntarily by law enforcement across the country. While the FBI found that hate crimes nationwide remained relatively consistent from 2017 to 2018, among the data are two important and alarming trends.
The Sikh Coalition said the first trend is of profound concern to it and the Sikh American community. According to the FBI's data, reported anti-Sikh hate crimes increased 200 percent from 2017 to 2018. In addition, Sikhs are now documented by the FBI as the third-most frequently-targeted religious group, behind the Jewish and Muslim communities.
Equally as disheartening is the second trend that hate crimes are still being systematically underreported across the United States. According to the Federal Bureau of Justice Statistics, Americans experience an average of 250,000 hate crimes per year. This latest FBI data, by contrast, only managed to document 7,120 incidents, with less than 13 percent of law enforcement agencies nationwide affirmatively reporting hate crimes in their jurisdictions.
"As documented hate incidents against Sikhs continue to increase, we are acutely aware of how our community continues to bear the brunt of hate in America," said Sim J. Singh, Sikh Coalition Senior Manager of Policy and Advocacy. "Unfortunately, the FBI's incomplete collection efforts do not give our government sufficiently-accurate information to effectively assess and counteract hate. It's past time for Congress to pass the next generation of common-sense, anti-hate crime legislation: the bipartisan Khalid Jabara-Heather Heyer NO HATE Act."
The Jabara-Heyer NO HATE Act was named for two victims of high-profile murders who were excluded from previous hate crime statistics due to poor data collection and reporting practices by law enforcement. This legislation would require the federal government to address underreporting and related issues by vastly improving hate crime reporting with funding for resources at the state level, including critical training for law enforcement and the establishment of hate crime reporting hotlines.
Just as Heather Heyer and Khalid Jabara's heinous hate crimes went uncatalogued, the Sikh American community experiences similar lapses. In 2017, a gunman in Nevada fired over 12 rounds into a van carrying five Sikh men and wounding one. The gunman was convicted on four counts with a hate crime enhancement and sentenced to 34 years in prison; nonetheless, the incident did not appear in the FBI's 2017 report.
Despite the imperfections in the data, the Sikh Coalition said it is thankful that after four years of our relentless advocacy, the FBI began tracking hate incidents targeting the Sikh American community in 2015. "We will continue pushing the federal government to improve hate crime prevention, response, and reporting, as well as urging state legislatures to adopt more robust laws of their own – just as the Pennsylvania General Assembly is currently doing," it added. Already, the Sikh Coalition has helped seven of Pennsylvania's eight gurdwaras sign onto a letter of support for new, bipartisan hate crime legislation designed to improve the commonwealth's response to hate-based violence.