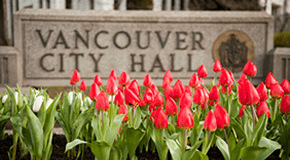 APPLICATIONS opened on Wednesday for the second round of the Vancouver Music Fund, the first municipal fund of its kind in North America that provides direct support to Indigenous and underrepresented musicians, artists, and groups in Vancouver's music sector.
The initiative, which is funded by the City of Vancouver and distributed by Creative BC, will support new and emerging artists and industry professionals who experience systemic barriers to funding. Eligible groups that the City and Creative BC are eager to support include:
* Musqueam, Squamish, Tsleil-Waututh and other Indigenous People
* Black and people of colour
* People with disabilities
* Minority language speakers, cultural communities, and refugees
* Cis and trans women, trans, non-binary, Two-Spirit, lesbian, gay, bisexual, and queer people
"The City of Vancouver is thrilled to amplify the voices of Indigenous and underrepresented musicians and to invest in opportunities that create equity for artists who continue to experience barriers to funding," said Branislav Henselmann, Managing Director of Cultural Services for the City of Vancouver. "Vancouver's remarkable music scene contributes to a diverse, vibrant and healthy city and plays an important role in the economy of Vancouver's creative sector."
By providing grants to emerging and diverse voices, the Vancouver Music Fund supports the strategic recommendations of the Vancouver Music Strategy and the City's 10-year culture plan, Culture/Shift, which aim to shift and re-prioritize support and to amplify a diverse music and cultural sector.
The Vancouver Music Fund includes three grant streams:
* Demo Program: Supporting new and emerging artists from underrepresented groups to create demo recordings and engage in mentorship and skill development with a BC producer.
* Music Video Program: Supporting the creation of music videos for new and emerging artists from underrepresented groups to build audiences.
* Industry Catalyst Program: Supporting projects that develop Vancouver's music ecosystem and build the capacity of underrepresented groups. Individuals and collectives can apply, in addition to companies and organizations.
Applicants can apply to Creative BC for a grant of up to 100% of project costs, removing the usual requirement for matching funding which can often be a barrier for many underrepresented groups.
"Creative BC is a proud partner of the City of Vancouver, continuing to deliver funds to underrepresented artists, especially at this time when the music industry has been one of the hardest hit by COVID-19. Access and focused support are crucial to ensuring a healthy ecosystem of creators and voices that reflect B.C.'s true diversity," said Prem Gill, Chief Executive Officer of Creative BC.
This will be the second round of grants provided by the Vancouver Music Fund, following a highly successful initial round of funding that saw $300,000 awarded to 59 projects and artists, including micro-grants to grow and promote the local grassroots music scene and funds to support Indigenous and underrepresented musicians to create and perform.
"The Vancouver Music Fund was hope for my team and I as we dreamt of ways of honoring our song Yes Mama. It allowed us to dream, innovate and most of all collaborate. The pandemic impacted our initial plans but with this fund available we were rooted in our purpose. It allowed us to give back to our community by including members as features and talents and hiring them as the production team. We were able to share our melanin, our love for art, the motherland and mama figures," said Missy D, Vancouver Music Fund grant recipient.
"It's great to see the City of Vancouver funding music that has been chronically underfunded across Canada, in this case, a Hip-Hop song performed by a Indigenous-female artist," said Hussein Alidina, aka DJ A-SLAM, previous Vancouver Music Fund Demo Program grant recipient and producer on Lady Sinncere's Can't Kill Me. "The Vancouver Music Fund played an essential role in bringing the Can't Kill Me project together. The funding allowed us to create a powerful anthem about Indigenous resistance, cultural resilience, and survival. The track is dedicated to Murdered and Missing Women and Girls, in Canada and around the world, and was recently performed at the Women's Memorial March in Vancouver."