ERIN O'Toole, Leader of Canada's Conservatives and the Official Opposition, announced on Thursday that a Conservative government will provide the federal funding needed to ensure the extension of the Surrey Langley SkyTrain is completed.
Both the provincial and municipal governments have set aside needed funding to make this extension a reality, yet the Trudeau Liberals have failed to deliver on their 2019 promise, said the Conservatives.
"British Columbians have been fighting for this SkyTrain expansion and ignored by the Liberals," said O'Toole. "[Prime Minister] Justin Trudeau has failed to deliver for British Columbians for two years."
O'Toole said that a Conservative government led by him will partner with the province and municipalities to ensure that this project will be completed by providing the federal funding that the project needs – with a target date of completion by 2025.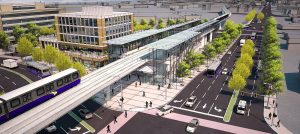 "To get the SkyTrain out to 203 Street in Langley, federal support is needed," said O'Toole. "Canada's Conservatives are committed to building transit infrastructure to get our communities moving. It's time to put Canadians to work and start building the infrastructure our country needs."
The Surrey Langley SkyTrain project will extend the SkyTrain network – an elevated rapid transit system in Metro Vancouver – by 16 kilometres to support the transit needs of growing populations in Langley, Aldergrove, South Surrey, White Rock, and Cloverdale, said the Conservatives.
They added: "If British Columbians care about creating accessible transportation for Canadians, there is only one choice: Canada's Conservatives."