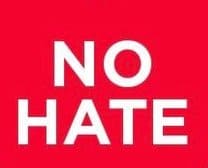 THE National Council of Canadian Muslims (NCCM) says that it is concerned by the sharp uptick of "mischief to religious property motivated by hate" as was made clear in by the Statistics Canada's Police Reported Crime Statistics, 2018 report on Monday.
Between 2017 and 2018, hate-motivated "mischief to religious property" increased by 41.1%. 
"This largely tracks with reports that we have been receiving across Canada from Canadian Muslims who are concerned about the safety and integrity of their religious institutions," said Mustafa Farooq, Executive Director of NCCM. 
"While we await the release of further details, there is no doubt that the downward trend of hate-crimes against the Muslim community in general is encouraging to see. However, the uptick in attacks on religious institutions is of grave concern, particularly when faith groups continue to grapple with the trauma of the Quebec City Mosque shooting, amongst other attacks on places of worship in North America," said Farooq. 
Just recently, the Owen Sound Muslim Association mosque in Ontario was vandalized and sprayed with graffiti two nights in a row. The attacker, now out on bail, also allegedly targeted a Popeyes because the restaurant was owned by a Muslim.