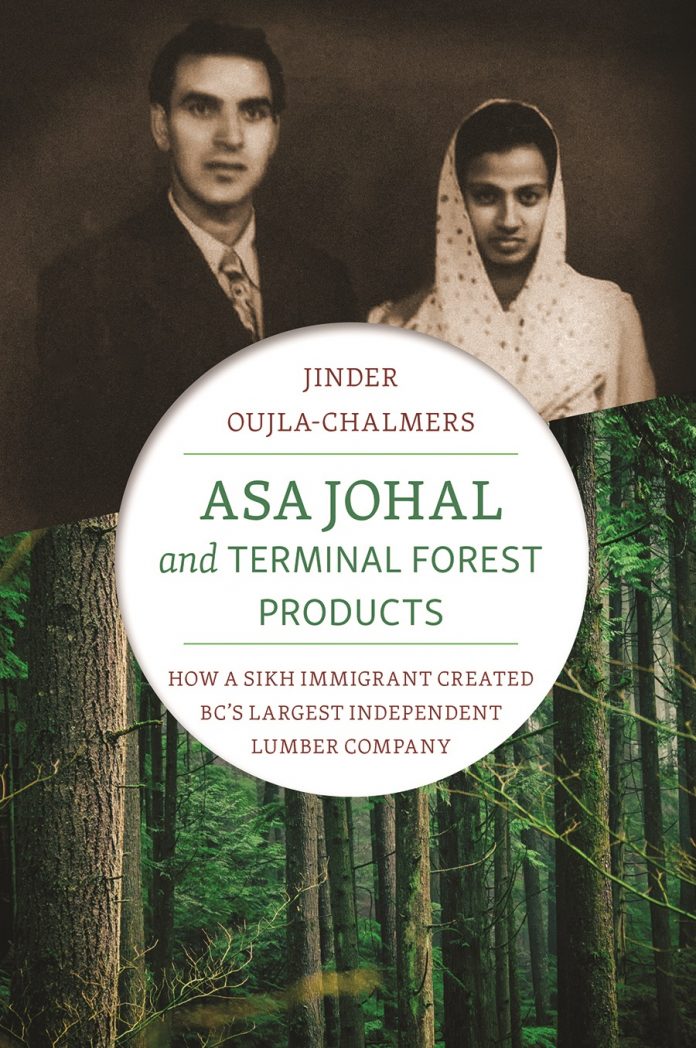 Asa Johal and Terminal Forest Products: How A Sikh Immigrant Created BC's Largest Independent Lumber Company
AUTHOR and film producer  Jinder Oujla-Chalmers will be at a book signing to celebrate her new book, "Asa Johal and Terminal Forest Products : How a Sikh Immigrant Created BC's Largest Independent Lumber Company" (Harbour Publishing), at Black Bond Books in Central City Shopping Centre on Thursday, October 10 from 4 to 6 p.m.
In this extensively researched book, Jinder Oujla-Chalmers provides an intimate and revealing look at one man's against-all-odds journey to multi-faceted success, and the surprising inside story of one of British Columbia's most successful entrepreneurs and philanthropic leaders.
Asa Singh Johal immigrated to Canada with his parents as a toddler in 1924, and he first started dreaming of owning his own mill when he was 12 years old, working with his father operating a portable mill in Alta Lake.
When Johal later founded Terminal Forest products in 1965, he was determined to build a thriving business. It was a difficult journey. Johal faced many challenges along the way, from getting a timber supply and establishing markets, to navigating complex political situations, economic recessions, and all the permutations of the softwood lumber dispute.
But through it all, Johal established himself as a force to be reckoned with among the predominantly white-owned and white-run forestry giants of BC. And after the restructuring of the Canadian forest industry at the beginning of the 21st century, when many of the other major players vanished into memory, Terminal Forest Products was still standing, stronger than ever.
Part biography of Johal and his traditional Sikh family, part intimate look at the evolution of the modern lumber industry, this book is an inspiring story that details Johal's hard work, perseverance and the discrimination he experienced, as well as the many decisions and choices Johal made over the years that helped him become the successful business leader he is today.
Oujla-Chalmers is a freelance writer, film and television producer and documentary director. She is currently working on a miniseries based on the events of the Komagata Maru and is a board member of the Writers Guild of Canada Diversity Committee and the Toronto Film, Television and Digital Media Board.  She won the Sondra Kelly Screenwriters Award in 2019.
Black Bond Books is located at Central City Shopping Centre at 10153 King George Boulevard in Surrey.  For more information, phone (604) 583-1282.