ASA Singh Johal, one of British Columbia's most successful entrepreneurs and philanthropic leaders and a South Asian legend, has passed away at the age of 98.
Author and film producer  Jinder Oujla-Chalmers in her book, "Asa Johal and Terminal Forest Products : How a Sikh Immigrant Created BC's Largest Independent Lumber Company," provided a revealing look at his against-all-odds journey to multi-faceted success.
Johal immigrated to Canada with his parents as a toddler in 1924, and he first started dreaming of owning his own mill when he was 12 years old, working with his father operating a portable mill in Alta Lake.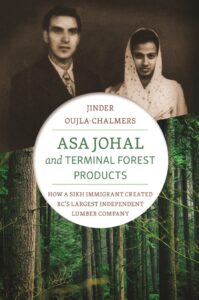 When Johal later founded Terminal Forest products in 1965, he was determined to build a thriving business. It was a difficult journey. Johal faced many challenges along the way, from getting a timber supply and establishing markets, to navigating complex political situations, economic recessions, and all the permutations of the softwood lumber dispute.
But through it all, Johal established himself as a force to be reckoned with among the predominantly white-owned and white-run forestry giants of BC. And after the restructuring of the Canadian forest industry at the beginning of the 21st century, when many of the other major players vanished into memory, Terminal Forest Products was still standing, stronger than ever.
IN 1991, Johal was awarded the Order of British Columbia.
The citation read:
IN the time since Asa Johal immigrated to Canada in 1924, he became one of British Columbia's most prominent businessmen and outstanding citizens. At the age of 19, he started a successful trucking business. In 1962, he established his sawmilling operation at Mitchell Island and turned it into one of the province's most efficient and most advanced in technology. Now, his Terminal Sawmill Group of companies consists of two mills, two manufacturing plants, a logging camp and other small operations.
Mr. Johal's business skills contributed to the economic well-being of British Columbia. But he contributed to Canadian society in a multitude of other ways – as a member of the University of British Columbia Board of Governors and a director of the Children's Hospital.
Through either major contributions or quiet help, he recognized many other worthy causes and organizations without concern for recognition. He routinely matched public donations to fund-raising campaigns for the B.C. Children's Hospital, Canadian Cancer Society, Rotary Club-Polio Plus and OASIS, formerly known as the Orientation Adjustment Services for Immigrants Society.
Mr. Johal contributed much to the Indo-Canadian community in British Columbia – as founding member, trustee and chairman of the India Cultural Centre of Canada and as president of the International Punjabi Society of B.C. He actively encouraged his fellow Indo-Canadians to participate in mainstream society.
He was granted an honorary Doctor of Laws degree by the University of British Columbia for his support of ethnic studies. In 1988, he was honoured on Canada Day for his outstanding contribution to the Indo-Canadian community.
JOHAL was also a Member of the Order of Canada (awarded on November 1, 1991; invested on April 29, 1992).
The citation read: "Single-handedly he built a small sawmill operation into the largest privately owned and operated lumber manufacturing company on the West Coast. His business success led him to endow two graduate fellowships in forestry at the University of British Columbia as well as a chair in language and culture of the Indian sub-continent. He is a generous and enthusiastic supporter of many health, educational and multicultural endeavours in his community."
HARRY Bains, Minister of Labour, tweeted: "So sad to hear passing of one of the original pioneers Asa Singh Johal. He not only helped south asians established and flourish in British Columbia, his wisdom and entrepreneurship was key in developing BC's forest industry, creating hundreds of good paying jobs.
"I had the privilege of working with Asa Singh Johal and learned so much about values of hard work and resiliency. Community lost a giant of a leader. Our thoughts and prayer are with His family and friends."
HARJIT Sajjan, National Defence Minister, tweeted: "I am deeply saddened to learn of the passing of Asa Singh Johal. His loss is felt across British Columbia and for many Punjabi Canadians like myself. Asa Uncle Ji was a pioneer in our community whose humble beginnings and drive to succeed was inspiring.
"He was a visionary who went on to own and operate Terminal Forest Products. His legacy and impact in our community touches so many lives, including my own.
"Uncle Ji was the first to help a new family looking to adjust in Canada. His passion for helping others could be seen through his philanthropy, community service and seva."
JOHAL leaves behind his wife Kashmir Kaur Johal, son Darshy, daughter-in-law Manjit, daughter Geven Oppal, son-in –law Avtar Oppal, six grandchildren and eight great grandchildren.
According to India Cultural Centre of Canada Gurdwara Nanak Niwas, an Akhand Paath Sahib will begin at the gurdwara on Friday, July 9. The Bhog will take place on Sunday, July 11 at 5 p.m. Further information can be obtained by phoning the gurdwara at 604-274-7479.