THE Britannia Mine Museum will launch their new summer exhibit with a nostalgic historical throwback to how Britannia residents enjoyed their recreational life during the mining days, and how social gatherings helped strengthen and build the resiliency of a remote mining town.
Running from May 20 to September 5, the "More than a Mine: Recreation in a Mining Town" summer exhibit rediscovers what recreational life was like at the two mining communities, Mount Sheer Townsite and The Britannia Beach. Drawn from the museum's historic collection and archives, the exhibit showcases previously unseen objects, photographs, and films which highlight the wholesome, unique community culture and traditions that strengthened the remote towns and made Britannia an enjoyable place to live.
"Reflecting on the past two years, we felt it was important to look back at how the Britannia residents kept up their active community life in isolation," says Laura Minta Holland, Curator of Collections and Engagement at the Britannia Mine Museum. "The Britannia residents created family-friendly environments where the community celebrated and supported each other which built and strengthened their sense of community."
More than 60,000 people from over 50 different countries around the world lived and worked at Britannia between 1904-1974 when it operated as a copper mine. The Britannia community was largely isolated from the rest of the world and was only accessible by boat.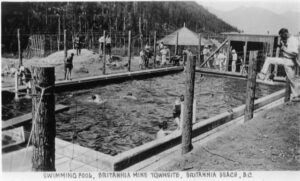 The mining company made sure there were plenty of recreational facilities and events for workers and their families. Facilities included libraries, a movie theatre, club rooms, billiard rooms, tennis courts, bowling alley and even a heated swimming pool. A thriving social calendar saw sporting events, theatrical productions, dances, movies, and parties held throughout the year.
The Britannia Mine Museum provides unique and memorable experiences that engage visitors of all ages. Visitors can enjoy fun exhibits and crowd favourites like the Copper Quest underground mine train, gold panning, the historic 20-storey concentrator Mill building and its BOOM! special effects show, the Terralab STEAM learning space, the minerals and gem gallery, and the Beaty Lundin Visitor Centre.
Located 45 minutes north of Vancouver on the picturesque Sea-to-Sky highway, the award-winning Britannia Mine Museum is open seven days a week with appropriate COVID-19 safety measures and procedures in place.
The "More than a Mine: Recreation in a Mining Town" exhibit is available via general admission tickets and annual memberships, which are available online at www.britanniaminemuseum.ca.