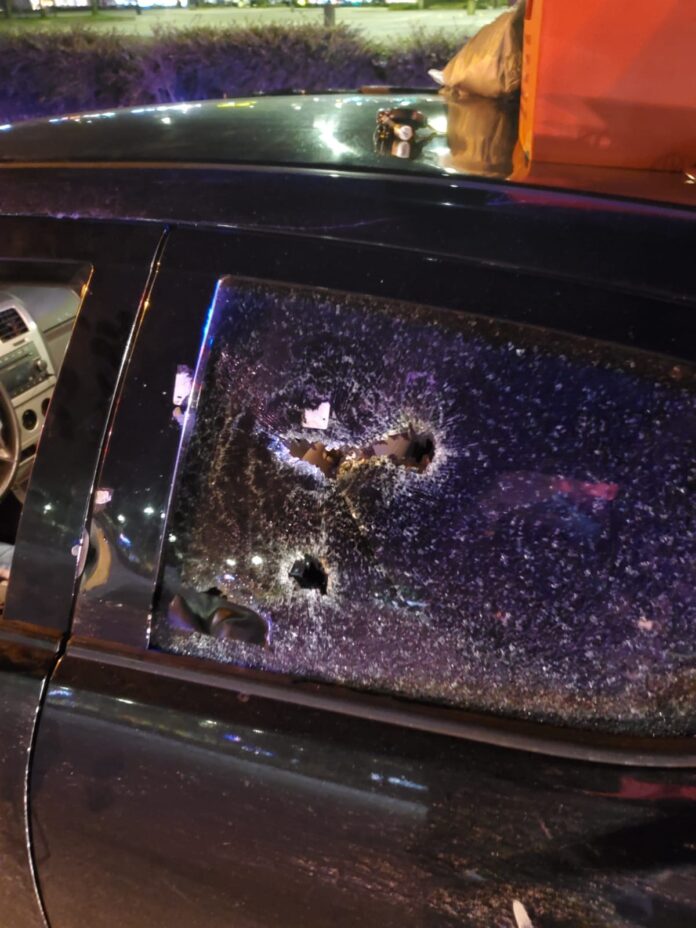 A vehicle riddled with bullet holes, containing drugs, cash and other items believed to be associated with trafficking drugs, was seized after officers from the Combined Forces Special Enforcement Unit – British Columbia (CFSEU-BC) Uniform Gang Enforcement Team (UGET) engaged in a vehicle stop while conducting proactive enforcement patrols.   
On the evening of Monday, February 22, UGET officers were conducting regular proactive enforcement patrols in the area of 104 Avenue and Whalley Boulevard in Surrey, when they observed a vehicle that appeared to have several bullet holes on the driver's side. 
UGET officers conducted a vehicle stop and observed the vehicle contained numerous open alcohol containers and marijuana paraphernalia. The three male occupants were arrested for drug-related offences. A search of the vehicle located over $25,000 in Canadian currency, approximately 2 lbs of what is believed to be marijuana, knives, and bear spray. The items were seized as part of an ongoing investigation.
The three arrested males, whose ages range from 20 to 37 years, are all believed to be involved in the local drug trade. They were released pending the ongoing investigation and criminal charges.  
The circumstances around the vehicle and how it became riddled with bullets is also under investigation.
"Our UGET officers work to prevent on-going gang violence using suppression, disruption and enforcement action through a visible, proactive presence in the community," said Sgt. Brenda Winpenny, Media Relations Officer for CFSEU-BC.   "This incident is another example of how UGET fulfills our mandate to protect public safety on a daily basis."