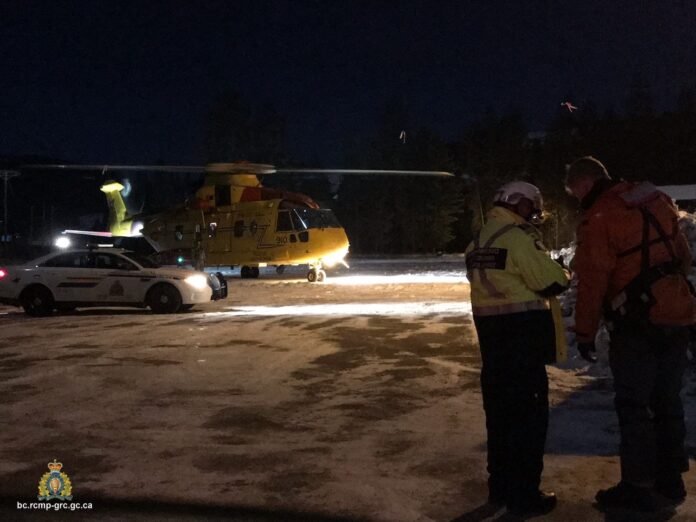 THE Mountie sure got his man – but then both needed to be rescued as the suspect had led the officer on a foot chase into a deep ravine.
So a pair of Canadian Armed Forces search and rescue aircraft were dispatched on Tuesday night from 442 Transport and Rescue Squadron from 19 Wing Comox to assist in their long-line rescue.
On December 1, shortly after 3 p.m., Midway RCMP responded to a report of a break and enter in progress to a property located in the 1600-block of Fish Lake Road. The Bridesville property owner was observing the situation unfold with their surveillance cameras. Frontline officers responded to the scene where they encountered five individuals who appeared to be fleeing the area.
One of those break and enter suspects fled on foot in an apparent effort to avoid being captured, while the remaining four were detained by police. The fleeing suspect jumped into a ravine, followed closely by a pursuing officer.
"The break-in suspect entered into the river multiple times before ultimately being located and arrested by the determined officer," said Cpl. Jesse O'Donaghey, spokesman for the BC RCMP in the Southeast District. "The arresting officer and his prisoner found themselves nearly 400 feet down the ravine, trapped and unable to climb back out, or be reached by any conventional means. To complicate matters the suspect was quickly becoming hypothermic, while the officer was dealing with exposure to the frigid temperatures."
Additional police officers responded to the scene from neighboring jurisdictions, including Osoyoos, to assist. However, they couldn't safely rescue the Mountie or the suspect. Those officers were supported by passersby who tossed warm clothing and supplies down to the officer to start a fire and keep warm.
The BC RCMP finally called for urgent support from the Canadian Armed Forces who immediately dispatched both a Buffalo fixed-wing SAR aircraft and a Cormorant SAR helicopter to the scene to assist with a medevac rescue.
At 9:20 p.m., the suspect was airlifted out of the ravine by SAR Techs. The 47-year-old Bridesville man was then airlifted to a regional hospital for a full medical assessment and treatment for exposure related injuries.
At 10:15 p.m., the frontline officer, who did not require any medical attention at the scene, was rescued from the ravine.
A 44-year-old man, a 45-year-old man, a 35-year-old woman and a 51-year-old woman, all of the Bridesville area, were released at the scene. Each face potential charges and are expected to appear in court at a later date.
Investigators have since determined that the 47-year-old Bridesville man, who fled from the responding officers, was wanted on several outstanding warrants for his arrest. He remains in police custody at this time and faces additional charges
"BC RCMP expresses its deepest thanks to all those members of the community who were directly involved in looking out for the safety and well-being of one of our frontline officers and our client by providing them warm clothing and supplies to start a fire for warmth. We also would like to sincerely thank our Canadian Armed Forces partners for their valued support," said Chief Superintendent Brad Haugli, District Commander of the RCMP Southeast District.