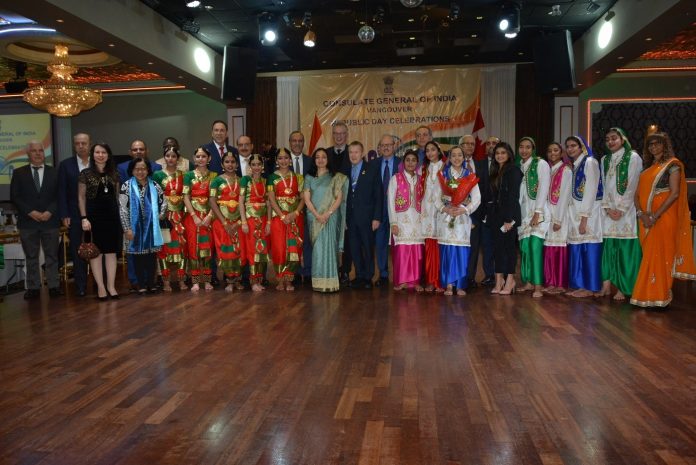 AN evening reception to celebrate the 71st Republic Day of India was held on January 26 at Vancouver's Fraserview Banquet Hall. Bruce Ralston, Minister of Energy, Mines and Petroleum Resources, was the chief guest. Harry Bains, Minister of Labour, Deputy Speaker Raj Chouhan, and MLAs Jinny Sims and Jagrup Brar were among those who attended.
Indian Consul General Abhilasha Joshi highlighted the friendly ties between India and Canada and recalled the contribution of the vibrant Indian origin diaspora as a living bridge between the two nations.
Ralston, conveying greetings from Premier John Horgan, spoke of the strong economic, cultural, commercial and academic relations between India and the Province of BC. A congratulatory message by Kerry Lynne-Findlay, MP, was read by Consul Manjish Grover, who anchored the event.
Guests were treated to a melodious sitar performance by Anju Bedi, graceful Bharatnatyam by Nandanum School of Dance and a high voltage Bhangra performance by the Royal Academy of Bhangra, showcasing the rich culture and diversity of India.