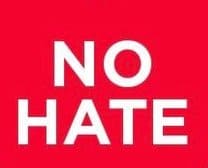 PEEL Region Police investigators from the Criminal Investigation Bureau have laid charges against a man and a woman after an alleged hate crime in Mississauga. 
It is reported that on Tuesday, March 16, the victims were present at a hardware store at Mavis Road and Hillcrest Avenue in Mississauga when the alleged suspects and victims became involved in a verbal argument over a parking dispute. The argument escalated to the point where the male suspect retrieved a weapon from the trunk of his vehicle and uttered threats towards the victims while using racial slurs targeting the Black community. During this time, the female suspect allegedly caused damage to the vehicle belonging to the victims. The suspects then fled the area before the arrival of police.
Investigators were able to identify the two suspects and on April 10, a 27-year-old female from Mississauga was charged with mischief over $5,000. A 24-year-old male from Mississauga was charged with assault with a weapon and uttering threats to cause death or bodily harm. Both were released with a scheduled date to appear at the Ontario Court of Justice in Brampton on June 25.
Anyone who witnessed the parking lot incident or has any information regarding this investigation is asked to contact investigators at the 11 Division Criminal Investigation Bureau at 905-453-2121 extension 1133. Information may also be left anonymously by calling Crime Stoppers at 1-800-222-TIPS (8477) or by visiting www.peelcrimestoppers.ca