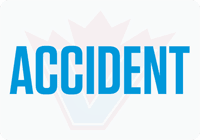 VANCOUVER Police are appealing for witnesses after a two-car collision claimed the life of an 23-month-old child and injured her 31-year-old father on Tuesday evening.
"This is an absolute tragedy," said Constable Tania Visintin. "Our most heart-felt condolences go out to the parents and family of this little girl."
A black Ford Escape collided with a black Mclaren in the intersection of Smithe and Hornby streets just after 6 p.m. on July 6. As a result of the collision, one of the vehicles mounted the sidewalk and struck a man who was carrying his 23-month-old daughter. The child died immediately on scene.  The father was taken to hospital for non-life-threatening injuries.
Drivers of both vehicles remained on scene. The driver of the Ford Escape, a 29-year-old man, was arrested.
Vancouver Police continue to investigate this file. No charges have been recommended at this time.
Investigators are asking for witnesses or anyone with dash-cam footage in the area of Hornby and Smithe streets on July 6 at around 6 p.m. to call VPD's Collision Investigation Unit at 604-717-3012.