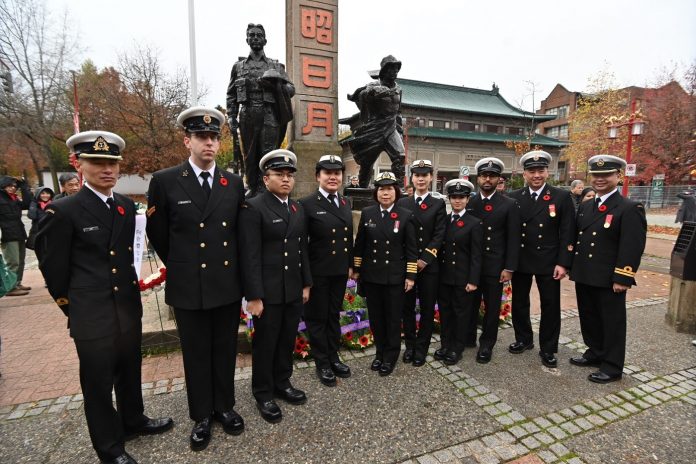 THE annual Chinatown Community Remembrance Day Ceremony took place at the Chinatown Memorial Square in Vancouver on Monday afternoon, honouring the many sacrifices and contributions made to Canadian society by Chinese-Canadian veterans and pioneers.
"We honour both our Chinese-Canadian, as well as all of our veterans, for their sacrifices so that we can enjoy the freedoms we have today," said Terry Yung, Board Chair of S.U.C.C.E.S.S.
"S.U.C.C.E.S.S. is pleased to be a part of such a meaningful tradition, and we take great pride in co-organizing this event in conjunction with our neighbouring Chinatown associations," said Queenie Choo, CEO of S.U.C.C.E.S.S.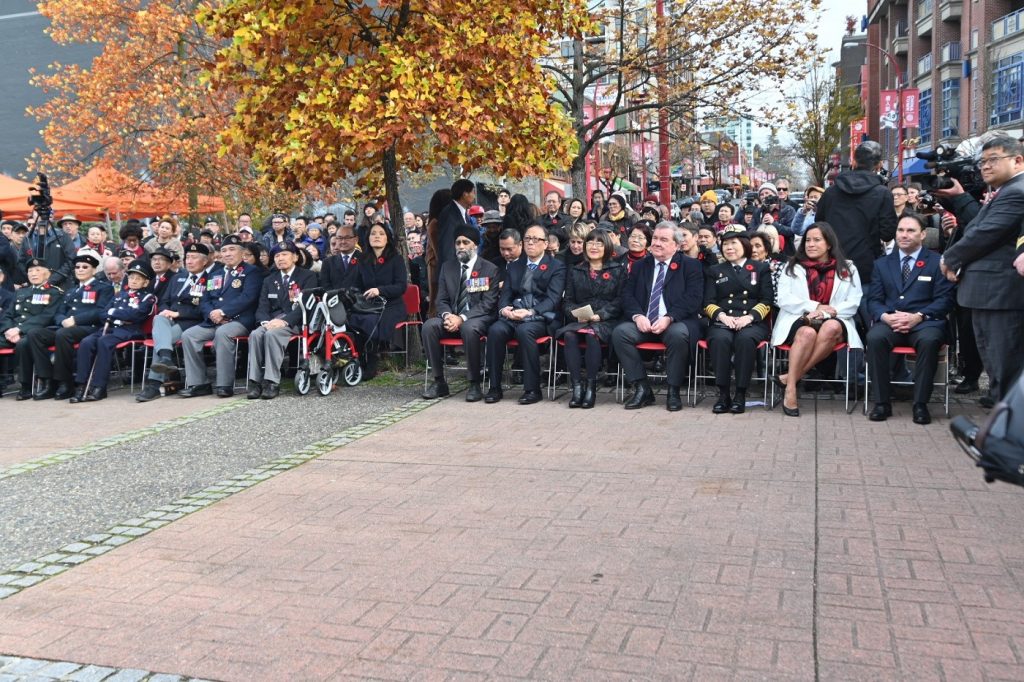 The ceremony was attended by numerous government representatives, including Senator Yonah Martin, MP Jody Wilson-Raybould, MP Hedy Fry, National Defence Minister Harjit Sajjan, MP Alice Wong, MP Jenny Kwan, MP Don Davies, Minister of State for Trade George Chow, Minister of Advanced Education, Skills and Training Melanie Mark, Minister of Social Development and Poverty Reduction Shane Simpson, MLAs Sam Sullivan, John Yap, Anne Kang, Teresa Wat, George Heyman and Michael Lee, Vancouver Mayor Kennedy Stewart and Vancouver City Councillors Adriane Carr, Jean Swanson, Pete Fry and Sarah Kirby-Yung.
The event included recitals of "This Was My Brother" and "The Poppy Reminds Me," as well as a keynote address from Jun Ing, Vice President of the Chinese Benevolent Association of Vancouver, a co-organizer of the event. The event concluded with the placing of wreaths by guests.
The ceremony was jointly organized by the Chinese Canadian Military Museum Society; Pacific Unit 280 of the Army, Navy and Air Force Veterans in Canada; Chinese Benevolent Association of Vancouver, Chinese Cultural Centre of Greater Vancouver; S.U.C.C.E.S.S. and the Vancouver Chinatown Merchants Association.