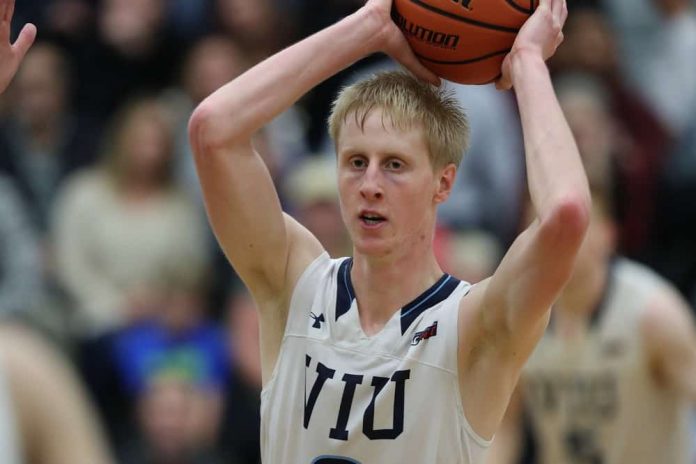 BRETT Christensen (see photos) has fond memories of Langley Events Centre.
He has won District, Fraser Valley and a Provincial championship on the courts of the facility. And now he looks to add one more title to his impressive basketball resume: a National championship.
Christensen, a second-year forward with Nanaimo's VIU Mariners, is back on the LEC court for the first time since his final high school basketball game with Langley's Walnut Grove Gators which ended with Christensen and the Gators celebrating the 4A title at the BC Boys Basketball Championships in March of 2017.
"I don't know if it's something about the court or just being from the area, but I have always had lots of success here," he said on Wednesday morning, prior to his team's practice. "The facilities are great here, the rims are always nice and the court is well-kept, so it is just nice to play in a first-class facility."
The Mariners are one of eight teams at LEC this week at the CCAA (Canadian Collegiate Athletic Association) Men's Basketball National Championship.
The first game tips off at 1 p.m. on Thursday (March 14) with the Championship final slated for Saturday (March 16) at 7:30 p.m.
VIU plays their first game at 3 p.m. against Calgary's SAIT Trojans in a battle of the B.C. champions versus the Alberta champions.
The Mariners went 16-2 during the regular season while the Trojans were 20-1 in capturing their third consecutive Alberta Colleges Athletic Conference championship. SAIT finished fifth at the 2018 CCAA Championship as they look for their first national gold medal since 1986 and first medal since silver in 2010.
"This is something I have always dreamt about, to play for a national championship," Christensen said. "Especially in my hometown, in front of my friends and family. This is a dream come true."
VIU's last appearance at nationals was in 2017 – Christensen's final year of high school – when the team finished fourth in the country.
In 19.4 minutes per game, the six-foot-four forward is averaging 8.1 points, 2.4 rebounds and 1.1 assists per game, which were very similar to his rookie year numbers (9.3 points, 2.5 rebounds and 1.3 assists).
For the B.C. players competing this week – the Langara Falcons are among the eight teams as the host squad – many have played at LEC with their various high schools at the BC Boys Basketball Championships, but none have likely spent as much time on the LEC courts as Christensen.
Does Christensen have any message to his teammates who may not be as familiar with the facility?
"There are no excuses, you can't blame a bad court, or a bad hoop. Everything is up to you."
Thursday, March 14 Game Times:
Game 1 (1 p.m.) Vanier Cheetahs vs. Humber Hawks
Game 2 (3 p.m.) SAIT Trojans vs. VIU Mariners
Game 3 (5:30 p.m.) Sheridan Bruins vs. Nomades de Montmorency
Game 4 (7:30 p.m.) Holland Hurricanes vs. Langara Falcons
For more on the tournament, visit www.ccaa.ca/sports/mbkb/championship/index