THE City of Burnaby has proclaimed April 14 as "Dr. Ambedkar Day of Equality."
The proclamation was signed on Monday by Burnaby Mayor Mike Hurley.
It was read out at the Burnaby Council meeting by Councillor Sav Dhaliwal.
The proclamation reads:
Whereas Concerns about inequality and inequity continue to be experienced globally and efforts to eradicate inequalities need to be supported and strengthened; and
WHEREAS Dr. B.R. Ambedkar, born in India, on April 14, 1891, in a community of Dalits (previously known as 'untouchables'), arose through the ranks and chaired the drafting committee of the Constituent Assembly to make and enact the new constitution of India; and
WHEREAS Indian Constitution stipulates the lofty ideals of Equality, Liberty, and Fraternity was made, enacted and adopted in 1950; and
WHEREAS The dedicated efforts and vision of Dr. Ambedkar to bring about a just social and economic order should be celebrated not only in India but rest of the world as well; and
WHEREAS India is celebrating its 75th year of independence globally (Azadi ka Amrit Mahotsav)
NOW THEREFORE I, MIKE HURLEY, MAYOR OF BURNABY,
DO HEREBY PROCLAIM APRIL 14, 2022 AS
"DR. AMBEDKAR DAY
OF EQUALITY"
IN THE CITY OF BURNABY.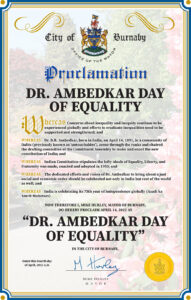 ALSO READ:
B.C. declares April 14, 2022, as 'Dr. B.R. Ambedkar Equality Day'