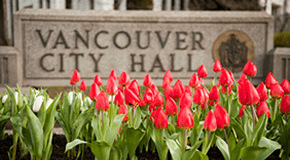 THE City of Vancouver announced on Monday that it welcomes submissions for "Platforms: We Are Here, Live," a public art program that will commission temporary artworks for existing platforms throughout Vancouver.
The program will focus on artists working in video and two-dimensional media. Each commissioned artist will receive $5,000 for the creation, editing and design of the artwork.
The City hopes to feature up to 20 Vancouver-based and Musqueam, Squamish and Tsleil-Waututh artists, who are grappling with issues revealed by the COVID-19 pandemic. Emerging artists and those new to working in the public realm are encouraged to apply.
""Platforms: We Are Here, Live" highlights the crucial role of public art in our community by sharing the powerful works of local artists who continue to create from their living rooms and bedrooms and on the streets of the city at this critical moment," said Eric Fredericksen, Head of Public Art at the City of Vancouver. "Artists offer responses to the conditions of our time and their works can help us engage and reconnect as we move through and beyond the pandemic."
The Platforms program will run for one year, starting in November of 2021. Selected artworks will be displayed on platforms throughout the city, including the light box at šxʷƛ̓ exən Xwtl'a7shn Plaza 9 (formerly the Queen Elizabeth Theatre Plaza), banners at Vancouver Public Library's Central Branch, the glass wall at City Centre Canada Line Station, transit shelter posters, the VanLive! video screen and digital display boards throughout the City.
For information about submission guidelines visit: https://vancouver.ca/parks-recreation-culture/platforms-public-works.aspx