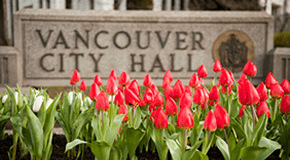 STARTING Monday, December 19, City of Vancouver crews will collect green bins every two weeks — not every week.
Green bin collection will lineup with residents' regular garbage day.
Weekly green bin service will resume on March 6, 2023.
The temporary change to a bi-weekly green bin schedule over the winter will provide more predictable service for residents, particularly when snow and ice impact operations.
An important consideration in the decision to change the green bin schedule is that in winter, volumes are much lower due to fewer yard trimmings and colder temperatures help minimize green bin odours, the City said.
The change to a bi-weekly service also reduces the wear and tear on equipment and extends the life of sanitation trucks, which are scheduled to be replaced. The City expects delivery of some new trucks in 2023; however, delivery of the remainder of replacement trucks could be delayed up to two years due to supply chain and manufacturing challenges.
In recent months, the demands of a weekly schedule on the current fleet have resulted in high levels of staff overtime and service delays.
Residents can download the VanCollect app or visit vancouver.ca/collectionschedule for garbage and green bin collection schedules, notifications, and up-to-date service alerts.