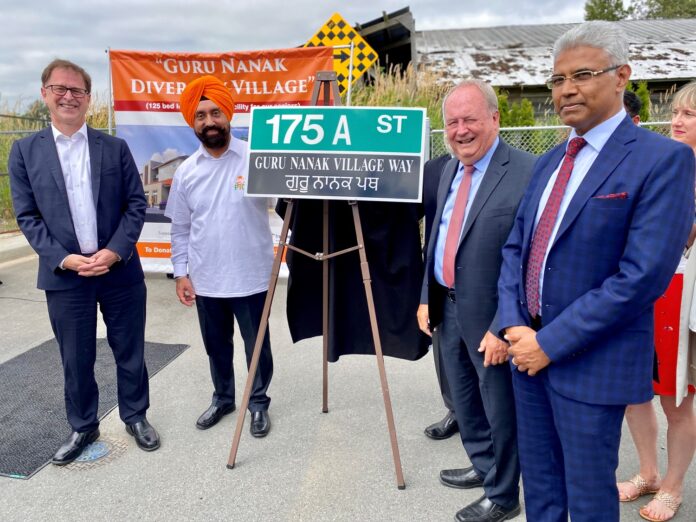 SURREY City Council was on Friday joined by PICS Society, elected government officials, Indian Consul General Manish and members of the community to celebrate the unveiling of a commemorative 'Guru Nanak Village Way' street sign in Cloverdale.
The sign has been installed on the corner of 64 Avenue and 175A Street following City Council's approval of a request from Progressive Intercultural Community Services (PICS) Society earlier this year.
Satbir Singh Cheema, President and CEO, PICS Society said: "With more than 104,720 South Asians living in the Municipality of Surrey, naming this street after Guru Nanak Ji not only reflects our city's multicultural mosaic, but also the rich Punjabi heritage."
He added: "It is a celebration of our minorities, our diverse cultures, communities and their contributions towards making Surrey a truly inclusive society and city. On behalf of PICS Society, our Board and the larger community we represent, I want to express sincere thanks to Mayor Doug McCallum and the Surrey City Council for their leadership on this initiative. I also want to thank the community, the local media and the dignitaries who joined us for the historic ceremony."
The idea to rename 175A Street after the founder of the Sikh faith came to the fore in the wake of the decision by PICS Society to name the proposed 125-bed long-term care home for seniors as Guru Nanak Diversity Village.
PICS Society has upgraded and widened 175A Street (off 64 Avenue) in order to provide access to the Guru Nanak Diversity Village residential care facility being built in Cloverdale. The commemorative street name sign was approved by the City Council on June 27 and was installed on Friday in both English and Punjabi on the corner of 64 Avenue and 175A Street.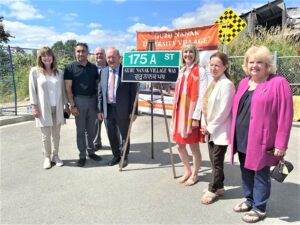 McCallum said: "I am very pleased to celebrate the installation of the commemorative 'Guru Nanak Village Way' sign in Cloverdale. This street will provide access to the Guru Nanak Diversity Village, a long-term care facility being built by Progressive Intercultural Community Services (PICS) Society."
He added: "A good population of Sikh community resides in Surrey and I can think of no better way to express the City's commitment to inclusion than to name this street in honour of Guru Nanak whose teachings championed the oneness of humanity and united people across religious divisions."