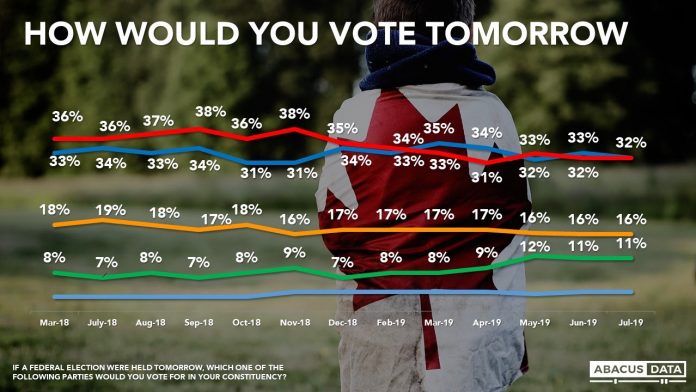 [responsivevoice_button voice="UK English Female" buttontext="Listen to Post"] 
BY BRUCE ANDERSON & DAVID COLETTO
Abacus Data
IN an election held today, the Conservatives (33%) and the Liberal Party (32%) would match each other in national support, according to a new Abacus Data poll.
The regional breakdowns of support tend to favour the Liberals at this moment, with Prime Minister Justin Trudeau's party leading east of Manitoba and tied with the Conservatives in BC. The Conservative vote is heavily concentrated in the Prairies.
The accessible voter pools continue to show the Liberals, Conservatives and NDP all having potential to win support of 45% to 50% of voters nationally. The Green Party potential pool remains higher than in previous years but down a bit from May of this year.
There's a four-point uptick in the number of people who think the country is on the right track (39%) and a drop in those who say the opposite (41%). The current reading is similar to what we saw in February of this year.
We are also seeing a slight upward movement in performance assessments of the federal government, from a low of 32% approval in April to 36% today.
In the three provinces where the largest number of seats are in play, net government approval went from -13 to -8 in BC, -13 to -5 in Ontario and -2 to +4 in Quebec.
Feelings about the party leaders show a slight upward movement for Trudeau from March. Today, 36% have a positive feeling about the Liberal leader, while 45% are negative. For Conservative Party Leader Andrew Scheer, the trend lines show that over the last year, positive impressions have climbed by 7 points, but negative impressions have climbed by 9 points. Since April of this year, Scheer's negatives are higher than his positives.
NDP Leader Jagmeet Singh has 26% positive and 28% negative opinion, and stable patterns for the last few months. Compared to August of last year, the NDP leader has seen a 4-point gain in positive feelings and a 2-point rise in negatives.
For Green Party Leader Elizabeth May, our latest result shows a 4-point increase in negative feelings. Today 29% say they have a positive view of May, and 21% negative.
Regionally, Trudeau's net approval is -6 in BC, -41 in the Prairies, -7 in Ontario, +5 in Quebec, and +7 in Atlantic Canada.
For Scheer, it's -3 in BC, +24 in the Prairies, -11 in Ontario, -6 in Quebec, and -10 in Atlantic Canada.
The NDP leader is above water in BC at +5, -16 in the Prairies, +2 in Ontario, +1 in Quebec, and -11 in Atlantic Canada.
In April, 34% preferred to see Trudeau win this fall's election, compared to 33% for Scheer. Today's numbers reflect a slight shift towards Trudeau, who now leads by 6 points on this indicator, although the numbers have been holding pretty steady since June.
We continue to measure the reputation of several provincial premiers, in part to help understand the impact they may have on the federal campaign this fall. The latest results for Doug Ford show that he remains notably unpopular on a national basis and that his negative ratings in Ontario have continued to rise. Today, just 20% of Ontarians surveyed say they have positive feelings about Premier Ford, compared to 65% who are negative.
UPSHOT
According to Bruce Anderson: "After a rough winter for the Liberals and a period of opportunity for growth for the Conservatives, the race remains very close. There were more headwinds from the Liberal standpoint in March and tailwinds for the Conservatives, and now this may have changed a bit. The safest bet at this point is to assume that more shifting and volatility is likely – but also that the focal point last winter of SNC-Lavalin is no longer a preoccupying topic and major influence on political choice."
According to David Coletto: "The stalemate continues for another month. The level of stability in the horserace overshadows some movement over the past few months in some of the key leading indicators favouring the incumbent Liberals. The mood of the country may be starting to come out of its post-SNC funk and comparison with what's happening in other parts of the world, especially in the US and the UK, may be lifting Canadians' spirits.
"All bets are off on how this election ends, but the regional picture gives the Liberals a slight advantage with leads in Ontario and Quebec."
(The margin of error for a comparable probability-based random sample of the same size is +/- 2.7%, 19 times out of 20. )