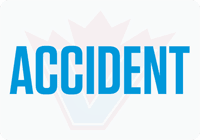 [responsivevoice_button voice="UK English Female" buttontext="Listen to Post"] 
ON Friday at 11:30 p.m., Abbotsford Emergency Services responded to a collision in the 36,500-block of South Parallel Road.
Emergency service workers located a man in his late 40's who had been struck by a Honda Civic and had succumbed to his injuries.
The driver, who reported this crash and rendered first aid to the man, remained on scene and is cooperating with the police. He did not sustain any injuries.
Abbotsford Police officers and collision reconstructionists are investigating. The cause of the collision has yet to be determined.