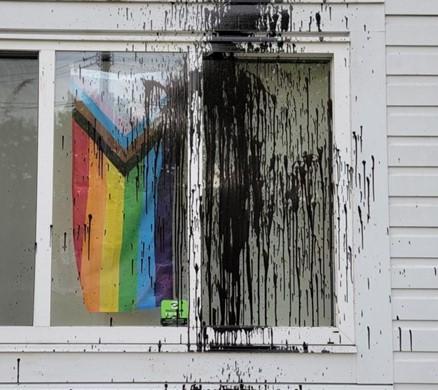 ON May 31, the Delta Police Department received a report that progress and pride flags displayed at the Ladner United Church had been targeted by vandalism. An unknown person or persons threw black paint on the windows directly in front of the displayed flags.
Police pointed out that these flags are symbolic representations of the 2SLGBTQI+ community and their allies and serve as a source of identity and support for many individuals. Defacing or damaging these flags is illegal, disrespectful, and deeply hurtful to the 2SLGBTQI+ community.
In this instance, it is not only mischief, it is also being investigated as a hate crime against both the church hosting the flag and the broader 2SLGBTQI+ community.
Since the pride flag represents the 2SLGBTQI+ community, damaging the flag can be seen as an act of hatred or discrimination against that community. By classifying such acts as hate crimes, Canadian law recognizes the importance of protecting marginalized groups and fostering a society that values diversity and inclusion, police said.
Delta Police Chief Neil Dubord stated, "Pride flags wave as symbols of acceptance, equality, and freedom, standing strong against any attempts to diminish our spirit or divide our community."
Displaying the pride flag, as the Delta Police Department and the City of Delta continue to do, is a way for allies to show support for the broader 2SLGBTQI+ community. It signals a commitment to equality, human rights, safety, and the fight against discrimination.
Over the past two and a half years, the Ladner United Church has experienced five incidents that were reported to the Delta Police Department. Each of these previous incidents underwent thorough investigations; however, no suspects were successfully identified.
The Delta Police Department said that it remains committed to conducting a comprehensive investigation into this most recent incident.
If you have any information regarding the damage that occurred on May 31, or regarding any previous mischiefs and hate crimes that occurred at the same location, you are requeted to contact the Delta Police at (604) 946-4411. To remain anonymous, contact CrimeStoppers at 1(800)222-TIPS (8247).