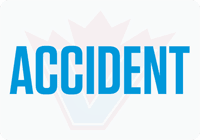 ON Tuesday, November 30 at approximately 11:30 p.m., Surrey RCMP responded to a two-vehicle collision in the 18100-block of 16 Avenue in which an occupant may have been ejected.
BC Ambulance Service and Surrey Fire Department personnel attended and provided medical treatment to one of the drivers, but they succumbed to their injuries and were pronounced deceased at scene.
A second victim was treated at scene and then transported to a local area hospital in serious condition.
Surrey RCMP's Criminal Collision Investigation TEAM (CCIT), with the assistance of the Integrated Collision Analysis and Reconstruction Service (ICARS), is investigating the collision.
Traffic in the area will be affected for an undetermined time as officers continue their investigation.
Traffic on 16th Avenue will be shut down at 176 Street to the west and 184 Street to the east.
The public is asked to avoid the area until further notice.
Anyone who may have witnessed the collision is asked to contact the Surrey RCMP at 604-599-0502.
If they wish to remain anonymous, contact Crime Stoppers at 1-800-222-TIPS or www.solvecrime.ca.