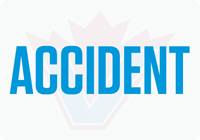 ONE driver is deceased in a crash on Tuesday involving a commercial vehicle and a smaller flat-deck truck on Highway 99 southbound between Blundell Road and Steveston Highway in Richmond.
The crash occurred at 8:47 a.m. and was attended by BC Highway Patrol South Coast members, Richmond RCMP and BC Emergency Health Services (BCEHS). Integrated Collision Analysis and Reconstruction Services (ICARS), Commercial Vehicle Safety Enforcement (CVSE), and the BC Coroner's Service will also be assisting with the investigation.
BC Highway Patrol has assumed conduct of the investigation.  At this point in the investigation there is no indication of any criminality as a contributing factor, BC Highway Patrol said.