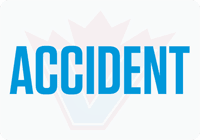 ON February 14, at approximately 8 p.m., Surrey RCMP responded to a report of a motor vehicle collision involving a pedestrian in the 18300 block of Highway 10. The vehicle was travelling westbound on Highway 10. The collision occurred at the intersection of Highway 10 and 183rd Street.
The pedestrian has been pronounced dead on the scene. The driver of the vehicle stayed on the scene and is co-operating. The incident is still under investigation. 
Anyone who witnessed this incident or has further information is asked to call the Surrey RCMP at 604-599-0502 or Crime Stoppers, if they wish to remain anonymous, at 1-800-222-8477 or www.solvecrime.ca, quoting file number 2020-23790.