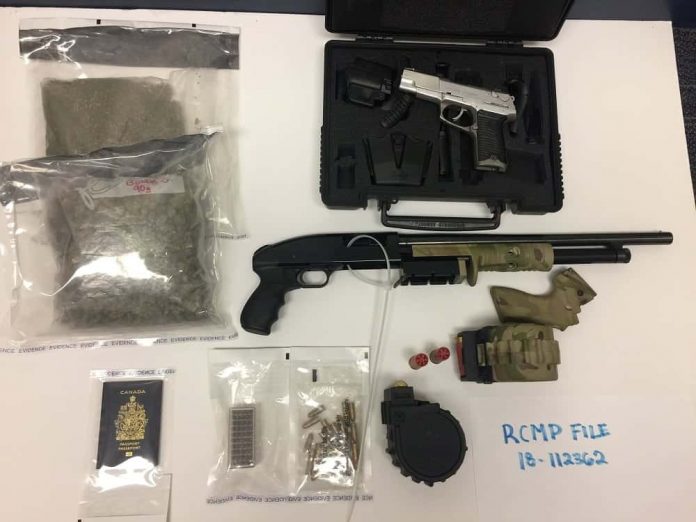 A fraud investigation has led to the seizure of firearms and drugs from a residential property in the Cloverdale area of Surrey.
On July 31, Surrey RCMP began an investigation into an alleged credit card fraud. The initial information received was regarding a purchase made at a local business with a stolen credit card number over the phone. Investigators were able to link the fraud to a residence in Cloverdale.
On August 1, General Duty along with Community Response Unit (CRU) officers executed a search warrant on the property located in the 5700-block of 176A Street.
The warrant resulted in the seizure of a modified Mossberg 500 tactical shotgun (semi-automatic), two high-capacity prohibited rotary shotgun magazines, a Ruger P90 handgun, ammunition, varying amounts of marijuana, methamphetamine, and prescription drugs, stolen identification and property, and fraudulent documents in varying stages of preparation. (See photo).
Three individuals were taken into custody and later released pending further investigation. Officers will also be liaising with City Bylaws and the property owners about the property to mitigate future problems.
"Not only do we rely on residents to report all types of crime, including fraudulent activity, but we also rely on businesses to do the same," says CRU Sgt. Winston Shorey. "Firearms like these in the wrong hands can lead to further criminal activity and violence in our community, which is why it's a priority for us to remove these items and individuals off our streets."
Anyone with further information is asked to call the Surrey RCMP at 604-599-0502, or contact CrimeStoppers if you wish to remain anonymous, at 1-800-222-8477 or www.solvecrime.ca.