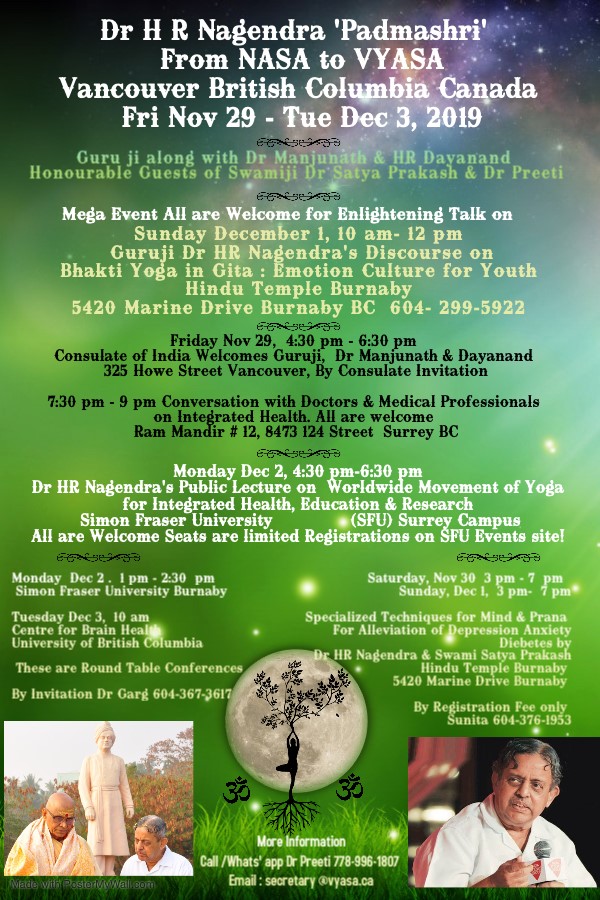 DR. HR Nagendra, is Founder and Chancellor of Sri Vivekananda Yoga Anusandhana Samsthana (S-VYASA), is visiting Vancouver from Friday, November 29 to Tuesday, December 3.
S-VYASA is a Centre of Advanced Research (CAR) in Yoga and Neurophysiology accredited by the Indian Council of Medical Research (ICMR).
The University publishes the International Journal of Yoga (IJOY) and it is hoped to make the journal a platform to bring together all good experimental researches on yoga.
Dr Nagendra, popularly addressed as Guruji all around the world, received his bachelor's degree in mechanical engineering from Bangalore University and Doctor of Philosophy from theIndian Institute of Sciences, Bangalore in 1968. After a year of postdoctoral fellowship at the University of British Columbia in 1969, he moved to NASA Marshall Space Centre. After a few years at Harvard University, and Imperial College of Sciences and Technology, London, he joined Vivekananda Kendra, a service mission, as honorary director of the training centre. He joined Vivekananda Kendra and established Vivekananda Yoga Research Foundation.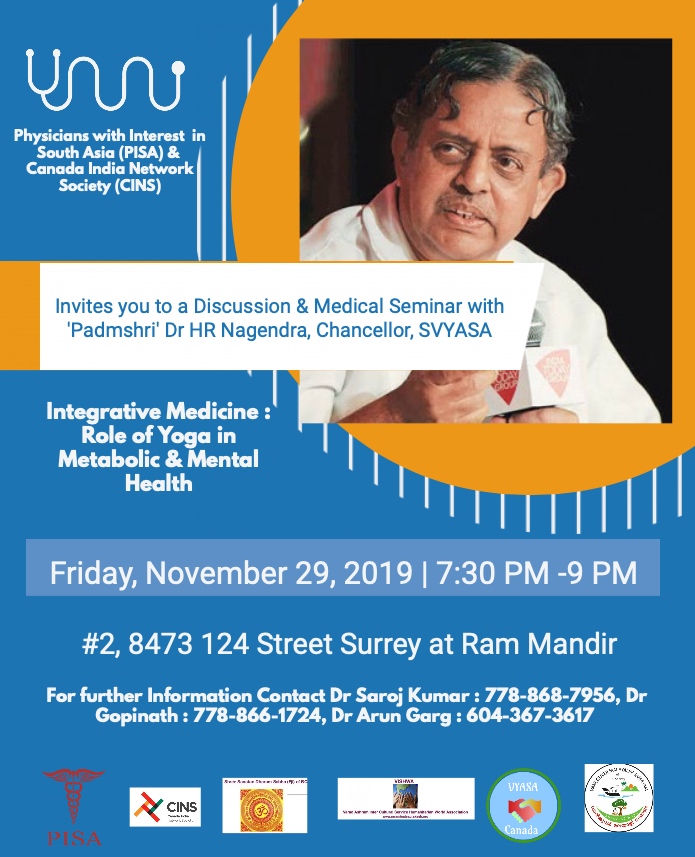 Dr Nagendra has received many awards and honors. He was recognised by the Government of India with Padamshri – the highest civilian honour of India.
He is recognized as Yoga Guru of Narendra Modi, Prime Minister of India . He is also the man behind initiating the International Day of Yoga to make yoga a global practice.
He has published more than 200 research papers and 35 books in the field of yoga and its applications in health and disease.
His current visit to Vancouver is hosted by Swami Satya Prakash ji and Preeti Misra in collaboration with Vyasa Canada.
The Canada India Network Society is working to engage local academics, medical and other health practioners in various sessions to explore enhanced role of yoga in integrative medicine and to build further capacity in research and accreditation standards in British Columbia.
For more info, contact Preeti Misra at 778-996-1807 or Dr. Arun K. Garg at 604-367-3617.